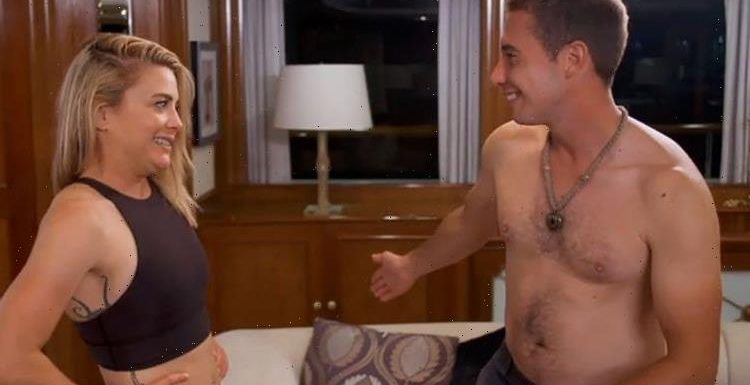 Below Deck Mediterranean: First look of series six
We use your sign-up to provide content in ways you've consented to and to improve our understanding of you. This may include adverts from us and 3rd parties based on our understanding. You can unsubscribe at any time. More info
Below Deck Mediterranean season six sees Captain Sandy Yawn and her crew tour around Croatia. They are tasked with entertaining the world's elite and they work together to keep their charter guests happy. Deckhand David Pascoe spoke exclusively to Express.co.uk about which role he would love to try, and more about season six.
Below Deck Med has been airing since 2016 and it is a spin-off to the popular Below Deck reality series.
David Pascoe is one of the deckhands on board the Lady Michelle, and he works alongside Lloyd Spencer and Mzi Dempers.
When asked which job he had been keeping his eye on, he said he was keen to try Malia White's role as Bosun.
He said: "By all means, I would have liked to have stepped up and gone Bosun, and if I was a little bit smarter maybe go up to Officer.
"I would always give interior a shot, it would be nice to be out of the sun once in a while.
"I'm destined to never be a chef, I have accepted that with open arms. But I would always be fairly open to trying any position within the boat.
"It's just the path I took at the time." The crew members have found themselves in all sorts of sticky situations this season.
When asked whether there was anything he would change about his time in the show, he said: "No, I think it's one of those things.
"With any situation you're faced with, you obviously have a choice on how you deal with it.
"There's no point in living on regrets, the past is the past and it can't be changed."
Season six started airing at the end of June 2021 and the total number of episodes is yet to be revealed.
As for what fans can expect from season six, Pascoe said: "The main thing is more personal to me.
"There's a lot of people in close proximity to each other and emotions flare, things get really difficult.
"But for me, it was the togetherness and the bonds that were formed and how people looked out for each other.
"We helped each other and it was a very genuine thing, it was very real and it was very nice to be a part of."
The series has been airing amid the coronavirus pandemic and the Deckhand said it was nice to have felt supported.
He added: "Especially with how much chaos the world has been in over the last year or so, to be in that environment and be with genuinely good people and work through things that would be a serious issue for them was very special to me."
The star is on Instagram and he has been keeping fans up to date with his experience on the reality show.
He shared a photo in support of his co-star Mzi Dempers, saying: "Tonnes of hate online towards a certain cast member which I don't condone.
"However, let's not forget that @zeedempers didn't get caught up in the escalating chaos, which is what really matters.
"Look out for the real ones. Sometimes worth using your energy to focus on the positives, not always the negatives."
Pascoe recently opened up to Express.co.uk about his views on online bullies who had targeted certain cast members.
He said he had seen "disgusting" behaviour, and felt audiences had forgotten the cast were not fictional characters, but real human beings.
One fan responded: "People who talk bad online are just looking for a reaction! Stay above it all!"
Below Deck Meditteranean airs on Bravo, HayU, Peacock and NOW.
Source: Read Full Article