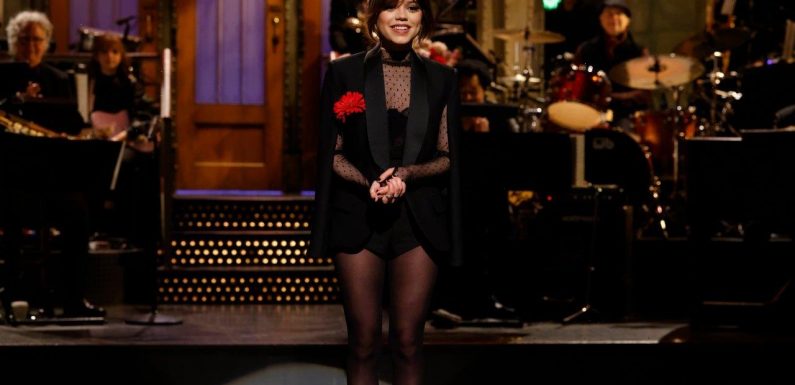 During her monologue, the 'Wednesday' actress jokes about her 'dark and twisted' acting roles as she insists that it's the opposite of her actual character.
AceShowbiz -"Wednesday" star Jenna Ortega made her "Saturday Night Live" debut on Saturday, March 11 episode. During her monologue, the first-timer host joked about her "dark and twisted" acting roles as she insisted that it was the opposite of her actual character.
The 20-year-old actress, who also starred in "X" and "Scream VI", said, "A lot of people assume I'm dark and twisted in real life because of these roles." She joked, "I think there's just something about my face where people see it, and they're like, 'Hey! Let's throw blood on that.' "
"I love horror movies but honestly, I don't get scared very easily," she continued. "Part of the reason I wanted to come host 'SNL' is that I wanted to face my biggest fear – happy, extroverted people who are always trying to perform."
She was later joined by comedian Fred Armisen, who is also her co-star on Netflix's "Addams Family" spin-off series. "Wow! So this is what it feels like to be on 'Saturday Night Live'," Fred, who was a regular cast member from 2002 to 2013, said. To that, Jenna replied, "You were on the show for 11 seasons."
In her "SNL" debut, Jenna also teamed up with Fred in one of the most memorable sketches of the night, which was a spoof of film "The Parent Trap". In the skit, Jenna took the double-duty roles of Hallie and Annie, who were played by Lindsay Lohan in the '90s version of the movie. Cast member Bowen Yang played the director, while Fred portrayed a crew member named Raymond, who was tasked with filling in for the star's body double.
Raymond, however, made inappropriate ad-libs during their rehearsal which threw off Jenna's characters. "Wow, he is hot!" Raymond said of Shawn Mendes at one point in the skit, before adding that he loved "The Real Housewives of Beverly Hills" star Lisa Rinna. "I would let her wreck me," he further claimed, much to the actress' discomfort.
You can share this post!
Source: Read Full Article