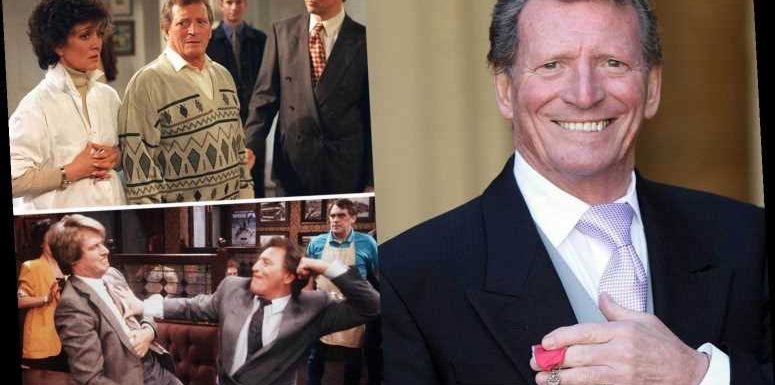 CORONATION Street legend Johnny Briggs – famous for playing wheeler dealer lothario Mike Baldwin – has died aged 85.
The actor played the role for 30 years and is best remembered for his famous bust up with Ken Barlow, played by Bill Roache, after he had an affair with his wife Deirdre, played by the late Anne Kirkbride.
Johnny joined the soap in 1976 and went on to appear in 2,349 episodes before he left the show in 2006.
In a statement his family said: "It is with great sadness that we announce the death of our father, Johnny Briggs.
"He passed away peacefully this morning after a long illness, with family by his side.  He was 85.
"We politely ask for privacy at this time, so that we can quietly grieve as a family and remember the wonderful times we had with him. Thank you."
His character, Mike, had been suffering with Alzheimer's for months and collapsed in the street after a heart attack, dying in the arms of Ken.
Father-of-six Johnny was married twice, to Caroline Sinclair from 1961 to 1975 and Christine Allsop from 1977 to 2006.
The keen golfer split his time between a home in Portishead, North Somerset, UK, and a house in Florida.
The love triangle between Mike, Ken and Deirdre rumbled on for years and proved a huge ratings winner for Corrie.
When an episode aired featuring Deirdre ending her relationship with Mike and returned to Ken it was became one of the soap's highest rated installments.
It was such big news that it was announced on the Old Trafford scoreboard during a Manchester United v Arsenal match, with the words "Ken and Deirdre reunited. Ken 1 – Mike 0" resulting in cheers from the spectators.
Johnny left Corrie saying he wanted to spend more time with his family and playing golf in America's sunshine state. He always said he hated British summers as he suffered from Seasonal Affective Disorder.
His departure led to an increased profile on the show for a new character, his nephew Danny, played by Bradley Walsh.
When Johnny left Corrie his two-year contract had just expired and he turned down another £200,000 a year deal.
He admitted that he struggled with the show's busy filming schedule, adding, "When I started we were filming two episodes a week and now we're doing five. I'd like to try other acting work like movies."
Johnny once confirmed in an interview that he was married to his work. He added: "I suppose I am a workaholic. I could make things much easier for myself but I don't. I've just become used to doing things in a certain way.
"I've put my work before my family, yes. Always have done. I've never felt I had any option about that. I don't know if I've been a good father. I hope I have. I've certainly provided for my children. They've never wanted for anything. But only they can say if I've been a good dad."
But as he spent more and more time in his Florida retreat he regretted the fact it took him further away from his Corrie castmates. He said: 
"I would dearly love some of them to be here with me but our worlds have grown further and further apart. I've long since come to realise that you can't have everything in this game. You have to make sacrifices."
Source: Read Full Article