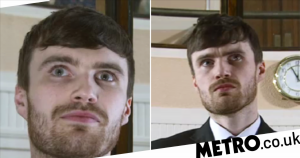 Justin Rutherford (Andrew Still) has been found guilty in the trial surrounding Ryan Connor's (Ryan Prescott) acid attack and Daisy Midgeley's (Charlotte Jordan) stalking in Coronation Street.
Ryan and Daisy's emotions have been all over the place recently, both terrified about facing the court.
Initially, Ryan refused to attend after learning that Justin's sister had told his lawyer about Daisy's manipulative behaviour, convinced that would be enough to make it seem as though the acid attack wasn't Justin's fault.
Ryan changed his mind, and along with Daisy and Daniel (Rob Mallard), they all faced questioning about the past few months. As well as pointing out Daisy's past actions involving Ryan, the defence barrister also made it seem as though she was having an affair with Justin, didn't want to marry Daniel and that Ryan originally planned the acid attack himself, but ended up getting burnt.
The frustration he was feeling triggered Ryan's anger in court and that evening, he met up with Daisy behind the pub. He apologised for his behaviour and Daisy felt sorry for him, and then leant in for a kiss.
As they returned to court tonight, things were awkward between Daisy and Ryan, and it was picked up by Daniel, who later wondered if his partner was hiding a secret.
After the jury deliberated for the final time, they returned to deliver the verdict.
As a smug Justin waited for his fate to be revealed, Daisy, Daniel, Carla (Alison King) and Ryan were relieved when the jury found him guilty.
After the judge announced that Justin's sentencing would happen at a later date, he was taken into custody.
As he left, he clocked Daisy and made a comment about how they'd see each other again soon but she didn't react, fully aware that with Justin behind bars, the ordeal is finally over.
Source: Read Full Article