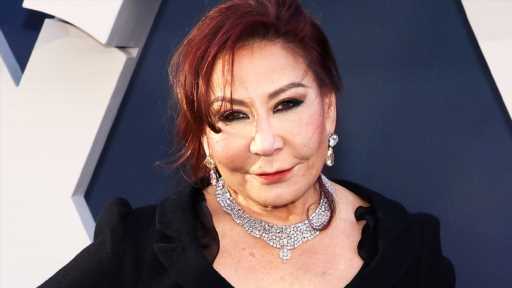 Anna Shay, star of Netflix reality series Bling Empire, has died. Shay died unexpectedly of a stroke Monday, her family shared in a statement to multiple media outlets. She was 62.
"It saddens our hearts to announce that Anna Shay, a loving mother, grandmother, charismatic star, and our brightest ray of sunshine, has passed away at the early age of 62 from a stroke," Shay's family said in the statement. "Anna taught us many life lessons on how not to take life too seriously and to enjoy the finer things. Her impact on our lives will be forever missed but never forgotten."
Related Story
Jacques Rozier Dies: Last Surviving Member Of French New Wave Was 96
Shay appeared as herself in all three seasons of Bling Empire, which launched January 15, 2021 and ran through October 5, 2022 on Netflix.
According to Netflix's description of the show, Bling Empire followed a wildly wealthy group of Asian and Asian American friends (and frenemies) in Los Angeles. While their days and nights are filled with fabulous parties and expensive shopping sprees, don't let the glitz and glamour fool you. Between running multi-billion dollar businesses and traveling the world, these friends are as good at keeping secrets as they are at spilling them. And there is certainly no shortage of secrets.
Brandon Panaligan served as showrunner and Jeff Jenkins, Ross Weintraub and Reinout Oerlemans executive produced the series. It was produced by Jeff Jenkins Productions, in association with 3BMG.
Shay also appeared on Celebrity Family Feud and was a presenter at the 2021 MTV Movie & TV Awards: Unscripted.
Kelly Mi Li, who appeared alongside Shay on Bling Empire, posted a remembrance of Shay on Instagram, writing "RIP @annashay93…you are one of a kind and we will miss you forever."
https://www.instagram.com/p/CtHnWezPIwg/
https://www.instagram.com/p/CtHnWezPIwg/
A post shared by Kelly Mi Li (@kellymili)
Must Read Stories
Directors' Deal With Studios Changes WGA Dynamics But Won't End Strike: Analysis & Reaction
Unveils Vision Pro Virtual Reality Headset As WGA Company's Protests At Stores & HQ
Elle Fanning & Sarah Paulson Set to Lead Mirrah Foulkes' 'I Am Sybil'
Sequel Scores Biggest Domestic Bow Of Summer With $120M+, Snags $209M Global
Read More About:
Source: Read Full Article