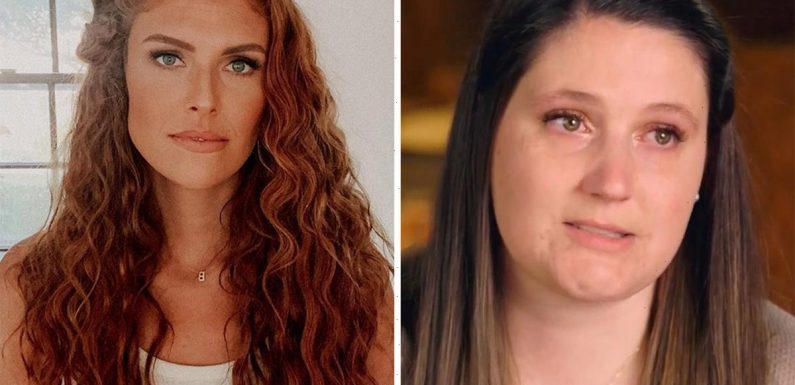 LITTLE People's Tori Roloff wrote about a "broken place" in a sad poem after her miscarriage & feud with her sister-in-law Audrey.
The 30-year-old shared the words on her Instagram alongside a photo of her standing alone in a field.
The words are song lyrics from Christian music artist, Riley Clemmon's new single, Godsend, who she credits in the post.
"I had added it up
I had made all my plans
But the road I had paved turned into dust
And I just didn't understand
I prayed for You to show up
I laid my weapons down
Surrendered to Your love
No looking back now
Oh, every closed door, every single sharp thorn
Every answer that didn't make sense
What if maybe
They were just teaching me to depend on
Your strength in the dark days
All my tears got me crying out to You again
What if maybe
Every broken place I've been was a godsend?
A godsend
It was a godsend"
Heartbreaking news
On Tuesday's episode of the reality show, fans watched Tori and her husband Zach reveal the heartbreaking news of their recent miscarriage.
The couple opened up about learning the Tori had miscarried in March where Zach, 31, later admitted they started telling their friends and family about the pregnancy "at week two."
Tori explained: "The first couple of weeks I was feeling pretty sick, but then leading up to the doctor's appointment I had been feeling better, which in hindsight, I guess, wasn't a good thing."
Zach recalled that they learned about the miscarriage while at the doctor's appointment, which started off pretty "standard."
He said the "tone of the room kind of shifted," adding: "You realize maybe something's not right here."
After the ultrasound technician left at Tori's doctor entered the room by giving her a huge, the Little People, Big World star said they "just knew."
An emotional Tori said through tears: "Everyone says that it was not something that I did or something we did. It was just this baby wasn't viable for life, but it's hard to not wonder what happened on that day."
Tori said that she already feels back to "normal," which is "the hardest part."
Zach added it was "upsetting to watch Tori go through this" and he has more "empathy" for women that miscarry.
Turning towards faith
The TV personality then credited her "faith" for helping her through the difficult time, adding: "I think it has given me a new perspective on what I have and what we have.
"Some women go through miscarriages and they don't have kids at home to be with and at least in our case we have two healthy, beautiful kids at home.
"I've been more aware of my blessings in that way."
The couple already share four-year-old son Jackson and one-year-old daughter Lilah.
Considering adoption
Tori told Us Weekly "I think that we're still hopeful that one day we will get to have another baby, and until then, we're just kind of happy where we are."
She also touched on the possibility of adopting in the future and said it was something they would "definitely" consider.
Tori explained: "I've always thought parents that have the heart for adoption or for foster care, I respect and adore them.
"I think those parents are amazing. It's not something we've necessarily talked about, but those parents that do do that, I think it's incredible."
Ongoing family feud
In the midst of her pregnancy struggled, Tori has also been at war with her sister-in-law Audrey.
The pair have been taking jabs at each other via social media the past few months, but perhaps the biggest snub was when Tori decided to shrug off Audrey's pregnancy announcement.
The TLC star failed to congratulate the soon-to-be mother of three, despite other family members doing so, extending their feud.
A source exclusively told The Sun: "Tori and Audrey always got along with each other, but Zach and Jeremy got into a huge argument one day and everything changed.
"It went on for weeks and the girls obviously took sides, they all stopped speaking to each other.
"The argument was about lack of respect. Zach felt he didn't get enough support from Jeremy, but he didn't agree.
"It exploded and there was a lot of mud-slinging, resulting in the two couples keeping their distance."
They have also argued over Roloff Farms in Hillsboro, Oregon, owned by the brother's father, Matt Roloff, who is said to want to retire soon.
The 59-year-old businessman has been discussing his next moves with family and desperately wants his sons to take over, with Zach being the most interested.
But a source previously told The Sun: "Secretly Matt would rather Jeremy be involved because he gets the business a little more," which has led to heated discussions.
An insider said the situation has started to improve and the brothers are now on speaking terms, while Tori and Audrey are slowly "building bridges".
Source: Read Full Article