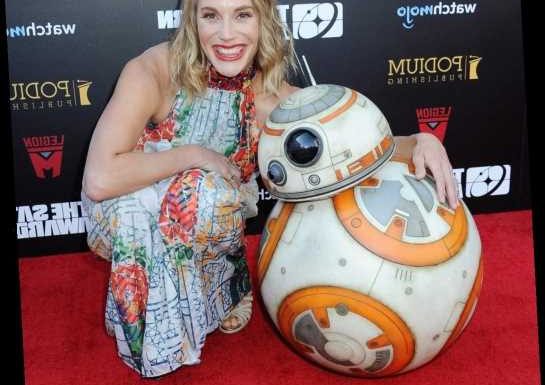 Star Wars fans were excited when Katee Sackhoff showed up on The Mandalorian. She had voiced Bo-Katan in animated Clone Wars and Rebels series, but she got to play her live-action, too. Exciting things are happening in Sackhoff's personal life, too. She's engaged to Robin Gadsby.
Sackhoff appeared on Michael Rosenbaum's Inside of You podcast on Jan. 26. She opened up to Rosenbaum about her new relationship, which she thought would only be a rebound from her breakup with Karl Urban. Now they are engaged.
How Katee Sackhoff met Robin Gadsby before appearing on 'The Mandalorian'
A guest spot on The Mandalorian was nice, but Sackhoff's day job is the series Another Life. Gadsby worked on her show.
"Robin is a writer and one of his friends worked in the production office," Sackhoff said. "He was looking for a way to get back into the film industry. So he took a low level position on our production to get himself out of managing a bar and writing during the day. It was a cycle that he wasn't excited about. He was working all night, and trying to write during the day. It was not the healthiest thing so he took this job to have a normal life, normal hours."
Katee Sackhoff was finally ready to date again, and she met the one
Sackhoff said it was nine months after her breakup with Urban that she met Gadsby. She was not expecting to get serious again so soon.
"I had, nine months before, gotten out of a relationship that ended so terribly," Sackhoff said. "I had just gotten to a point where I had gone to therapy and I'd accepted my part in it. So it had taken me a long time to get to a point where I was like all right. I truly thought that this guy was going to be a rebound because I was looking at men again, for the first time in nine months. I was like, 'Oh, he's cute.' I really thought that I was protecting myself because he's ten years younger than me."
Even her mother knew Robin Gadsby was a catch
Sackhoff and Gadbsy's relationship began organically. He didn't make a slick move or anything.
"He was a production assistant and we just became like best friends and really got to know each other on a deeper level," Sackhoff said. "That was all it was. Then when production was over, I kept saying to my mother repeatedly, 'This guy's going to make some woman so happy one day. He's the most amazing person I've ever met in my entire life. He's just so smart, he's so kind, he's just everything, he's amazing. Wow, he's going to make some woman so happy.'"
Mrs. Sackhoff knocked some sense into her daughter.
My mom was like, 'What is wrong with you?' I'm thinking, 'What are you talking about? Oh no, he's ten years younger than me.' She's like, 'I don't understand what is wrong with you, child.' I think my mom saw someone that treated me well and that was new. I think she just went, 'Oh my God, this man is inherently kind.' I've dated nice guys before. They're nice. They know how to put it on. I've never met a guy who was just f*cking kind, like just really kind. It still blows my mind. I wake up every morning and pinch myself that I'm lucky enough to be loved by this person. It just blows my mind. 
Source: Read Full Article