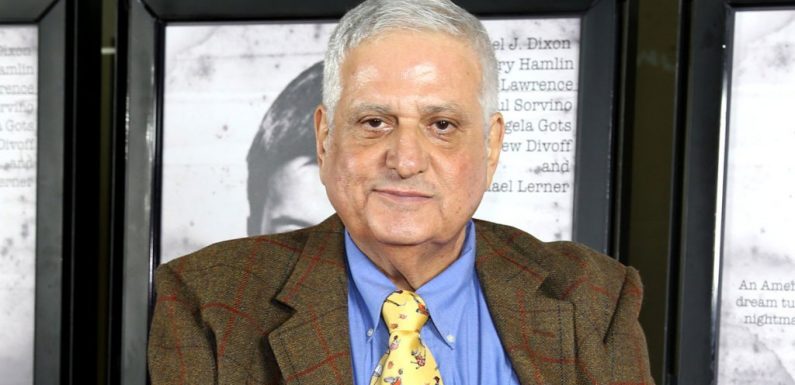 Michael Lerner, an actor who appeared in television shows like Clueless and Glee and was nominated for an Oscar for his role in Barton Frink, has died. He was 81 years old.
Lerner died Saturday evening, his nephew and The Goldbergs actor Sam Lerner confirmed in a tribute post on Instagram.
"We lost a legend last night. It's hard to put into words how brilliant my uncle Michael was, and how influential he was to me," Sam posted. "His stories always inspired me and made me fall in love with acting. He was the coolest, most confident, talented guy, and the fact that he was my blood will always make me feel special."
Related Story
Hollywood & Media Deaths In 2023: Photo Gallery & Obituaries
Sam continued, "Everyone that knows him knows how insane he was — in the best way. I'm so lucky I got to spend so much time with him, and we're all lucky we can continue to watch his work for the rest of time. RIP Michael, enjoy your unlimited Cuban cigars, comfy chairs, and endless movie marathon."
No more details about Michael's cause of death were revealed.
https://www.instagram.com/p/Cq1GFwDPJ_d/
https://www.instagram.com/p/Cq1GFwDPJ_d/
A post shared by Sam Lerner (@samlerner)
Lerner had an extensive career in film and television. It was in 1991 that he scored a nod at the Academy Awards in the Best Supporting Actor category for his role as film producer Jack Lipnick in Ethan and Joel Cohen's Barton Fink. In 1996 he signed up on take on the role of Mel Horowitz, Cher's father in the television adaptation of Clueless. Lerner also had a recurring role on Glee where he played Sidney Greene, an investor working on the revival of the Broadway musical Funny Girl sharing screen time with Lea Michele.
His film credits included National Lampoon's Class Reunion (1982), Harlem Nights (1989), Newsies (1992), Blank Check (1994), The Beautician and the Beast (1997), Godzilla (1998), The Mod Squad (1999), Elf (2003), Poster Boy (2004) and X-Men: Days of Future Past (2014), to name a few.
Some of Lerner's television credits included The Good Guys (1969), The Brady Bunch (1969), The Bob Newhart Show (1973), M*A*S*H (1974), The Odd Couple (1974), Starsky & Hutch (1975), Rhoda (1975), Kojak (1978), Wonder Woman (1978), Hill Street Blues (1983), The A-Team (1985), Courthouse (1995), Law & Order: Special Victims Unit (2003), Kingdom Hospital (2004), Saving Grace (2009), The Good Wife (2012) and Suburgatory (2012), to name a few.
Must Read Stories
WGA-Studios Talks Could Extend Into Next Week; Strike Authorization Vote Begins Tuesday
Donald Trump Does Easter; Molly Shannon Brings Back Her Classic Characters
'Snowfall' Star Damson Idris Joins Brad Pitt In Apple's F1 Racing Movie
Lawmakers Want DOJ To Investigate WBD Merger, Cite Axing 'Batgirl' In Their Letter
Read More About:
Source: Read Full Article