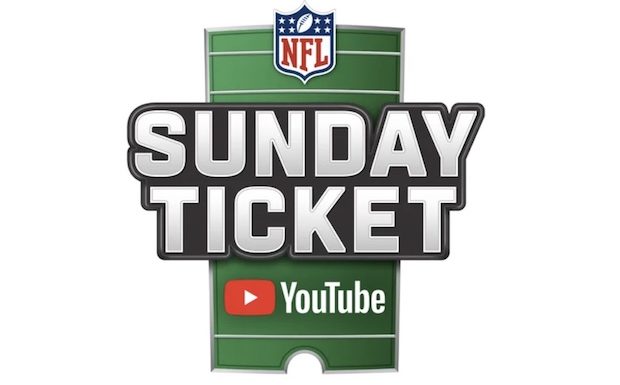 This is not the kind of "Hike!" NFL fans want to see.
YouTube TV on Tuesday revealed its pricing plan for the NFL Sunday Ticket package, which it intercepted from DirecTV back in December, and it's meaningfully more than what the satellite dish service most recently charged.
NFL Sunday Ticket, for the uninitiated, makes available to subscribers all out-of-market, Sunday regular-season NFL games broadcast on FOX and CBS.
For those who already subscribe to YouTube TV's Base Plan, the NFL Sunday Ticket add-on is available now, during a special presale, for $249 for the season — or a savings of $100 off the regular price of $349/season. There is also a bundle option that folds in NFL RedZone, for a total of $289 for the season during the presale — which is, again, $100 off the regular price of $389/season.
Those who do not subscribe to YouTube TV's Base Plan can watch NFL Sunday Ticket via YouTube's Primetime Channels for $349 for the season during the presale, whereas the NFL Redzone bundling option will fetch $389 for the season — with both deals saving you $100 off the regular rate.
(DirecTV most recently charged its customers $293.94 per season, or $395.94 for an NFL Sunday Ticket Max package that included extra content. DirecTV base subscriptions run $65/month and up.)
YouTube TV members will have access to features like multiview (which lets you watch up to four games at once) as well as unlimited DVR storage, personalized recommendations, the ability to view key plays, NFL Fantasy data, real time stats and a "hide spoilers" option (that conceals the scores from other games flashed on the screen).
Non-YouTube members watching via Primetime Channels will have access to multiview and key plays.
The Sunday Ticket package had been exclusively offered by satellite TV provider DirecTV since 1994, but its deal expired at the end of the 2022 NFL season. DirecTV reportedly paid $1.5 billion annually for the exclusive rights, whereas YouTube (per the Wall Street Journal) ponied up $2 billion per season, in a multiyear agreement.
Source: Read Full Article