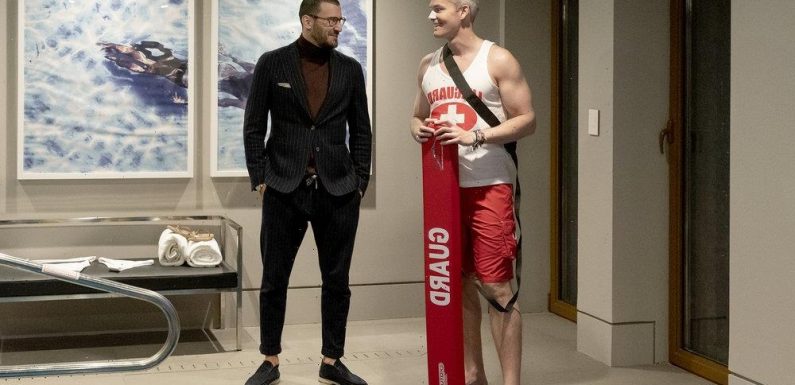 Pre-pandemic days were good to Ryan Serhant from Million Dollar Listing New York because it meant he could still rock a costume during packed broker's opens. But what happens when he is dressed in full lifeguard gear and Steve Gold arrives at his event?
Serhant couldn't help but take a comedic swing at Gold's smart, street-appropriate garb when Gold suggested he try on a pair of hotpants. In an exclusive preview clip shared with Showbiz Cheat Sheet, Serhant turns his broker's open into a fashion show. He includes racks of summertime-inspired clothing throughout the smart home. But of course, Gold couldn't help but bust Serhant's chops over the clothing selection.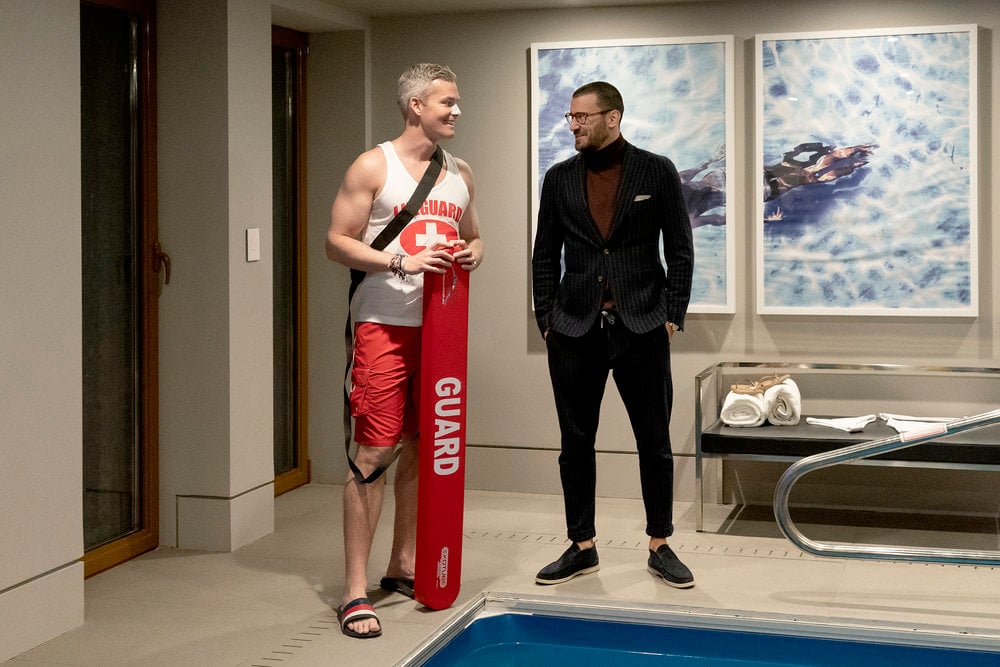 Ryan Serhant uses a smart strategy for a smart home
During a pre-pandemic broker's open, Serhant decides to stock his event with models wearing swimsuits throughout the glass and metal home. He also provides shopping opportunities for attendees, lining the walls with racks of swimsuits in an array of bright colors. "You love it?" Serhant says to a potential buyer who looks overwhelmed and excited. "You wanna buy it?" She says yes and Serhant jokes with the crowd that the deal is done.
Serhant then demonstrates one of the home's smart features. A light inside the faucet flashes blue or red to indicate hot or cold water. "You don't wanna touch the water to know what temperature it is?" he says to a growing crowd as he turns on the kitchen faucet. "It's cold! You see the color?" The light embedded inside the faucet is a cobalt blue.
Meanwhile, Gold is seen getting out of a car and enters the home. He's ready to joke with Serhant as he selects a pair of tiny white, hotpants to show Serhant. "Ryan would probably wear this," Gold jokes.
Gold grabs the pants to show Serhant, while Serhant is heard describing the home's amenities. "Hot tub on the roof, double-height kitchen …" Serhant says.
Does Steve Gold from 'Million Dollar Listing' really have a dad bod (no)?
Serhant stops in his description when Gold enters the room. "Look who it is," Serhant says as he greets Gold. Of course, Gold takes the opportunity to rib Serhant by presenting him with the white hotpants in front of clients. Serhant leans into the joke. "Oh that's mine!" he grins. "Actually wasn't this your's back in your modeling days?"
Gold has the perfect response. "It was but now I don't fit in it because I got a dad bod." Gold recently joined the Million Dollar Listing New York "dad club" and became a father in 2019.
He turns his attention to the fact that Serhant is dressed a full lifeguard costume. "Uh … is there a pool here?" he wonders. First Serhant jokes that there wasn't, "I just f**king thought this would be a great idea. Yes there's a pool!"
"I don't understand who Steve Gold thinks he is making fun of my outfit," Serhant says in a confessional. "When he came here in a Steve Jobs costume." Mic drop?
Million Dollar Listing New York airs Thursdays at 9PM ET/PT on Bravo.
Source: Read Full Article