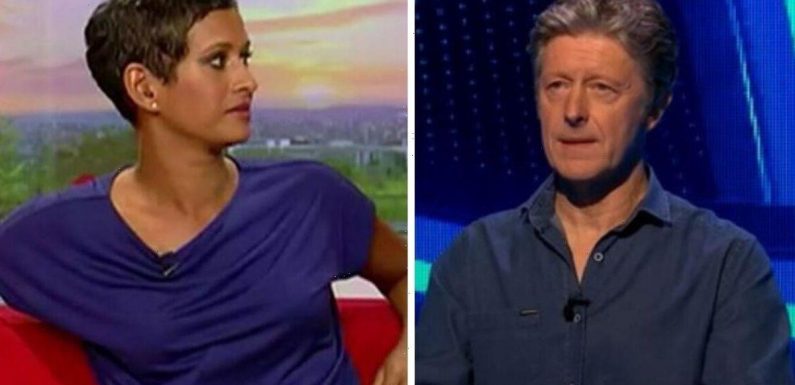 Naga Munchetty grills health minister on nurses' pay
We use your sign-up to provide content in ways you've consented to and to improve our understanding of you. This may include adverts from us and 3rd parties based on our understanding. You can unsubscribe at any time. More info
It comes as the BBC Breakfast duo, who regularly present together, took part in a celebrity edition of The Weakest Link. After a tough round, Charlie voted for Naga to be eliminated from the quiz show, causing a tense rift in the studio. Speaking after the awkward vote-off, Naga confessed she felt "betrayed" and threatened "revenge".
In one round of the revived classic hosted by Romesh Ranganathan, Naga's name was selected by her fellow players when it came to elimination time.
To add insult to injury, Charlie even opted to vote for Naga as the weakest contestant.
As an awkward silence fell upon the studio, Naga remarked: "Oh yes."
Justifying his decision, Charlie claimed he picked Naga because she had been the only other player to have incorrectly answered a question.
"It was a difficult round," the broadcaster admitted.
Romesh stated: "I'm just going to move on because it is super awks."
Leaving the studio, Naga ominously remarked: "Revenge is a dish best served cold."
Speaking to the cameras afterwards, she made clear her feelings towards her colleague.
"No one likes being voted off," she commented. "If it's fair, that's fine."
Acknowledging Charlie's decision, she continued rather tongue-in-cheek: "If it's betrayal from people who you think are supposed to have your back, it's a different matter."
The host hasn't fronted the BBC show so far this week as the Christmas episodes saw a shake-up to the usual presenters.
On Boxing Day, Ben Boulos hosted the programme alone, while Tuesday saw him joined by Luxmy Gopal.
While the programme's hosts are changed in a rotating schedule, each is paired with a colleague who they continue to present alongside.
Charlie and Naga normally front the show from Thursdays to Saturdays, so have built a strong rapport.
The "betrayal" will likely have shocked Naga as they pair share a history of working together.
The Weakest Link special saw daytime TV stars including Fern Britton, Owain Wyn Evans, Mr Motivator, Carol McGiffin, Diarmuid.
Gavin, Dr Punam Krishan and Naga and Charlie compete against each other.
They each hoped to win £50,000 for charity.
It's likely Naga and Charlie will be reunited on BBC Breakfast this Thursday, where they will hopefully have left their awkward exchange behind them.
The Weakest Link Celebrity Special is available to watch on BBC iPlayer.
Source: Read Full Article