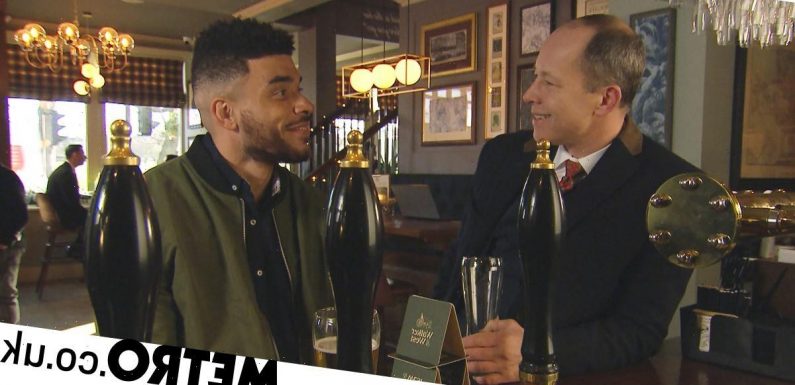 Sleezy Greg (Daniel Betts) needs taking down but he's not going without a fight and it's going to take some welly to get him knocked off his perch in Emmerdale.
The trouble is, as a partner at the law firm, Greg holds the keys to Ethan's (Emile John) dream job, and he has no intention of bowing down to Ethan's report of his misconduct.
Let's be fair, if he's gross enough to ignore Marcus' (Darcy Grey) boundaries, there's definitely enough left in the tank for him to be even more sinister to protect himself.
Ethan passes on the bad news to Marcus and Naomi (Karene Peter) that his boss is doing his best to discredit the complaint and that it's not going to be simple.
Backed against a wall, Ethan confesses he feels it might be easier to drop the investigation and quit. It's the last thing anyone wants and would be a completely unsatisfying resolution, so Naomi comes up with a risky plan and gives Marcus the low down on how they might be able to get the justice Marcus deserves.
Naomi's bright idea involves Nate (Jurelle Carter) summoning his best flirty banter and playing the bait for the lecherous law firm partner, but the farm hand needs some convincing before he'll adopt the role.
It doesn't take much, Naomi tugs at his heartstrings and points out Nate could singlehandedly save Ethan's career. It does the job, he signs up.
Nate heads to the bar and instantly Greg is pulled in by Nate's irresistible gaze. Nate reels him in with his longing stare and before long he has Greg approaching and offering him a drink.
Greg can't believe his luck and makes it clear he has naughty intentions with Nate, his amorous behaviour being caught on Nate's strategically placed phone. It all seems a bit too easy, is Nate about to get the evidence they need to bring Greg down?
Source: Read Full Article