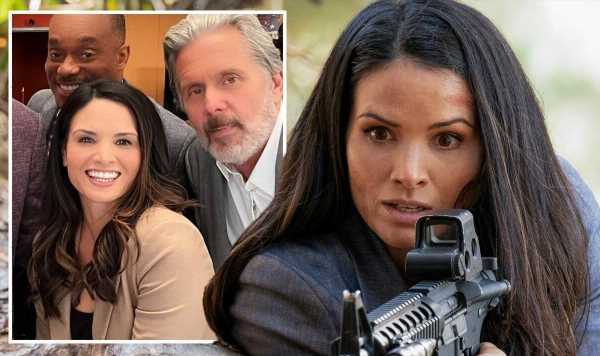 Wilmer Valderrama says NCIS season 20 production has begun
We use your sign-up to provide content in ways you've consented to and to improve our understanding of you. This may include adverts from us and 3rd parties based on our understanding. You can unsubscribe at any time. More info
Alden Parker (played by Gary Cole) found his future in NCIS under threat within the same season he made his debut back in the 19th run. After stepping into the shoes left by Gibbs (Mark Harmon), Parker managed to win over the likes of Nick Torres (Wilmer Valderrama) and Jessica Knight (Katrina Law) and effectively lead the team – although this was thrown into disarray at the end of season 19 when his ex-wife Vivian Kolchak (Teri Polo) appeared. But with the CBS drama returning for season 20 in September, actor Law has seemingly confirmed his spot on the team remains safe – for now at least.
The mystery surrounding Parker's past remained a hot talking point throughout NCIS season 19 – between both CBS viewers and the agents on-screen.
Fans got more of an insight when ex, Vivian, was thrown into the fray, falling victim to a supposed kidnap before a murder investigation began to unravel and point all the fingers toward Parker.
Not only did Parker know the victim, named Ressler, but it turned out the pair didn't have the closest of bonds, with Parker behind Ressler's firing from the FBI and the fact the new NCIS leader was being sued for defamation by his former rival.
What followed was the FBI having Parker in their sights, investigating him for fraud and Parker telling the team he wasn't going to drag them down with him.
However, as there's plenty more than meets the eye with the entire case, Parker went on the run thanks to a little help from Director Vance (Rocky Carroll).
The last viewers saw of him, Vivian was accompanying him on his AWOL journey.
However, a shady text sent from his ex-wife suggests Parker will find himself in danger in season 20 and a major betrayal is on the cards.
With so much mystery surrounding Parker's future, however, Knight star Law sparked excitement with a snap from the NCIS team's HQ as filming for season 20 continues – and co-star Cole was alongside.
"Coming right up," Law simply captioned the smiley snap from filming.
She was joined by Cole, Valderrama, Sean Murray – who plays Timothy McGee, and Carroll.
With the team seemingly back together, does this mean Parker's innocence will be proven early on in the new season?
Whatever happens, it's safe to say fans are thrilled to see Cole back in the team's office alongside the agents.
DON'T MISS:
NCIS NOLA's Scott Bakula dealt huge blow as new show axed by NBC
NCIS LA's Kensi Blye star sparks meltdown with peek at season 14 set
NCIS' Pauley Perrette showered with support after home struggle
Replying to Law's snap, Instagram user @pyramid2012 replied: "Parker is back from the second honeymoon?? I mean… you know."
While @azpiony theorised: "KLaw is covertly telling us that the whole team is back together at NCIS in episode 2, which they're filming this week. Parker looks 'so thrilled' to be back in the office."
And @clint8813_v2 excitedly commented: "Oh hell yes it's the silver fox."
Others sharing their joy included @serenagarde who echoed: "#NCIS Rocks! So thankful for all the hard work this cast and crew gives to bring us fans this amazing show!"
While @eddieszanyi concurred: "Can't wait to see how this storyline plays out."
And @kaf525600 weighed in: 'Love you guys!!!! Can't wait till the new season starts."
So will Parker be back as the head of the team once season 20 rolls around?
Or could Law's snap be a red herring with Parker set to remain out of the picture for some time given the seriousness of the crime?
NCIS season 20 premieres on CBS in the USA on Monday, September 19. A UK release date is yet to be announced.
Source: Read Full Article