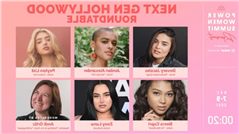 Power Women Summit 2021: "I believe that I am my top priority and I'm the person who's looking out for me," Jordan Alexander says
Being a young woman is difficult in general, but it's particularly hard in Hollywood. Actresses Peyton List, Jordan Alexander, Devery Jacobs, Sierra Capri and Zoey Luna spoke with TheWrap's Andi Ortiz about how they navigate difficult moments and the one surefire thing that helps.
Joining TheWrap's annual Power Women Summit, the five young women unanimously agreed that therapy is a huge factor in getting through the industry. Of course, each one also had their own personal technique on top of that.
"I would say that I've leaned in on my spirituality to help me guide myself through this whole journey and experience," said "Dear Evan Hansen" actress Luna. "I think the experiences that I've had on the sets that I have been a part of have really taught me when to extend yourself and when not to overextend yourself. So, definitely how I maintain a healthy balance with myself… is that I keep it focused on work."
Luna added that she also makes a conscious effort not to spread herself too thin.
"I try to make sure I take care of my mental health by just retracting from situations that I feel — listening to my body and listening to when I feel I've had enough and when I'm overextending myself," she added. "And also… I think therapy is something that I firmly believe in. And I think that it helped me understand myself."
"Reservation Dogs" star Devery Jacobs felt much the same way, voicing her excitement over a "pro-therapy" conversation.
I also am a huge advocate for therapy," Jacobs said. "Especially over the pandemic, I was able to see my therapist regularly and I left — well, not that we're out of the pandemic, but I'm now on this side of the pandemic feeling like I have emotional stretch marks all over my body because of how much I've grown and how deeply I've been able to listen to myself."
The actress also made sure to credit the people she surrounds herself with for helping in that regard.
"Also connecting with family, connecting with my community and making sure that I'm staying grounded in that. I also have different people and things that I can turn to spiritually, just to make sure that I'm taking care of not only my mental health, but also my spirit and mind and all of that," she said.
For "Cobra Kai" star Peyton List, there's a physical component when it comes to taking care of her mental health.
"Working out has become the way to clear my mind," List noted. "Just stretching and listening to your body, finding some quiet time too. There's structure in that as well. Just having structure in an industry where there's really not a lot of it… I think finding some quiet time for yourself is just so important."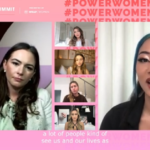 Jordan Alexander, who stars in HBO Max's "Gossip Girl" noted that her well-being is "something that I am constantly thinking about," and that she makes it a point to check in with her own gut instincts.
"Whether it's taking on different jobs or if I want to do some type of social engagement, I really try to take a second and listen to myself and see if I have any reservations about doing something," Alexander explained. "And if I do, I investigate that. And if I shouldn't do something, then I just don't. I believe that I am my top priority and I'm the person who's looking out for me."
Alexander added that stepping away from her phone at times has also been an immense help, something "On My Block" actress Sierra Capri wholeheartedly agreed with.
"I need to put it down and just be more present and be in the moment. It is energy sucking and it is something that you will get on and tell yourself you're going to be on your phone for 10 minutes, and it turns into five hours," Capri said. "And you're like, 'Where did the time go? I wasted so much of the day.' So, I agree… with everything everyone said. Literally, those were the points that I was going to say."
For more of the discussion, you can watch the full panel here.
Source: Read Full Article