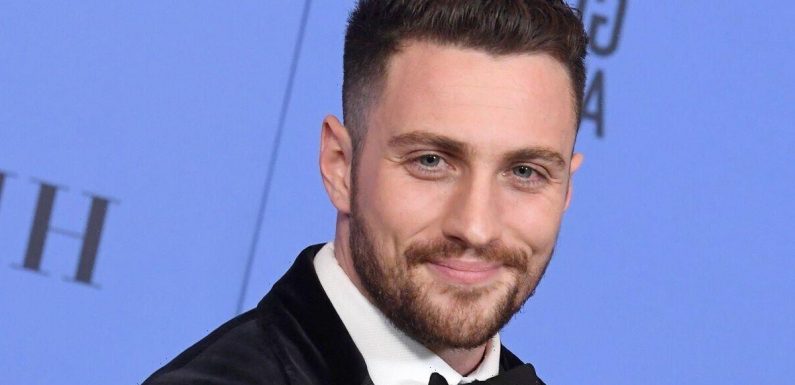 Aaron Taylor-Johnson details Brad Pitt fight scene in Bullet Train
We use your sign-up to provide content in ways you've consented to and to improve our understanding of you. This may include adverts from us and 3rd parties based on our understanding. You can unsubscribe at any time. More info
The ongoing race to become the next James Bond has continued to thrill 007 fans over the past few years – but it could all be over. Since Daniel Craig's final Bond movie, No Time To Die, hit cinemas, the Bond odds have been the only signifier of who is in the running to take his place. Aaron Taylor-Johnson quickly became a frontrunner this year, but following some new information from a Hollywood actor, he could have already been cast as the suave spy behind the scenes.
Taylor-Johnson has made quite the name for himself in Hollywood over the past few years. On top of working with Brad Pitt in Bullet Train last year, he also saw massive success in the Marvel series as Pietro Maximoff. Before that, he portrayed John Lennon in Nowhere Boy.
In January The Sun reported he had started auditioning for 007 with Bond bosses Barbara Broccoli and Michael G Wilson. A source told them: "Aaron went for a screen test to be the next Bond in September and producers and Barbara loved him. He is now one of the front-runners."
This instantly slashed his odds with leading bookmaker Ladbrokes to a staggering 13/8, making him the frontrunner. And now some new information could mean he has actually been cast as the legendary cinematic hero.
Earlier this week, Taron Egerton spoke to Total Film about his new Tetris movie. During the conversation, he was quizzed on if he could be the next James Bond star. At the moment, he has meagre 66/1 odds on claiming the role – but his comments were extremely interesting.
Egerton told the publication: "Yeah. I mean, I think they've already got someone, and it's not me."
If the Bond bosses have indeed already hired someone behind the scenes, Taylor-Johnson is the most likely name on the list. Considering he was supposed to have carried out some screen tests earlier this year, he has a better chance than any other actor in the running.
DON'T MISS…
Next James Bond casting news – Taron Egerton gives biggest update yet
Daniel Craig dropped foul-mouthed advice for next James Bond star
Next James Bond candidate Idris Elba wants to 'take over' as Luther
Taylor-Johnson responded to the Bond rumours in February when he was chatting with Vanity Fair. He called the rumours "flattering", but went on to dodge the question.
He said: "You can have something really positive [written about you], but you can also have something really negative that can circulate. You just want to stay in your lane, stay grounded, stay around the people that you love and love you back, and stay in that world." He added: "Because the moment you start believing the s**t people say about you, you've lost your f*****g mind. You've lost it."
Egerton was later "pushed" to speak more on the topic, prompting him to reveal he has "never" been part of the conversation.
Egerton said he had never been approached by Broccoli or Wilson for the role of Bond. He said: "They've never enquired about me. I've just never been one of the guys that they're looking at."
He went on to further rule himself out of the running, adding: "I think there's much, much, much better candidates for that role than me," he explained. "But, you know, I'd be a very willing audience member. They're brilliant films."
Elsewhere in the Bond odds is Henry Cavill in second place with 5/2, and Tom Hardy in fourth place with 9/1 – so it's still all to play for.
Source: Read Full Article