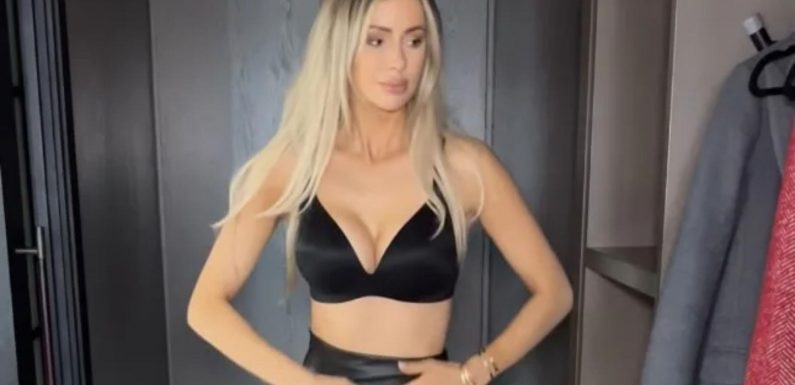 OLIVIA Attwood has flashed her bra in a sizzling Instagram video showing off her stunning wardrobe.
The former Love Island star could be seen modelling some of her clothes as she picked out an outfit for the day.
Olivia, 31, who is also known for appearing in The Only Way Is Essex, stripped to her bra before dressing up.
The blonde beauty could be seen wearing a leather pencil skirt and black boots alongside the busty bra.
She showed off her cleavage and stunning figure, letting her long hair flow behind her, opting for glamorous make-up.
The star walked around before grey jumper, grey coat and a black handbag – as well as chunky black glasses.
read more on olivia attwood
Love Island's Olivia Attwood rushed to doctors after neighbour rescued her
Love Island's Olivia Attwood seriously divides fans with strict wedding rule
"Sometimes I like to cosplay as a sophisticated together adult," Olivia captioned the video posted to Instagram.
Some of her fans flooded the comments to gush over her look, calling her "beautiful" and "stunning".
However, others were left severely distracted by the hanger that Olivia threw on the floor after putting on her jumper.
She was seen kicking the hanger away instead of putting it back in the wardrobe, and some fans couldn't stop looking.
Most read in Celebrity
Katie Price's daughter Princess lands four figure clothing deal
Martine McCutcheon looks slimmer than ever posing in leopard print leggings
Amanda Holden wows as she dresses up as Dorothy from The Wizard Of Oz
Health update on Ed Sheeran's wife Cherry after he revealed her tumour battle
"The way you just yeet that hanger," one said, as another chimed in: "Love how you sling the hanger on the floor."
"Gorgeous! But pick that hanger up!" a third said, while a fourth chimed in: "The hanger kick!"
It comes after Olivia revealed that she was rescued by her neighbour and rushed to the doctors after falling seriously ill.
Olivia, who was found curled up in her toilet by a neighbour, told fans: "What a week. Anyone else been wiped out by one of these sickness bugs?"
She added: "Thank god for my lovely neighbour who rescued me from the toilet floor and took me to the doctors."
Olivia quickly followed up the post by revealing that her fiance Bradley Dack was away which she lamented as "perfect timing".
The Love Island favourite wrote further: "Brads been away. Perfect timing. Just been me and the girl.
"Stitch not left my side. Lolly on the other hand has kept her distance. Street dog instincts, only the strong survive."

Source: Read Full Article