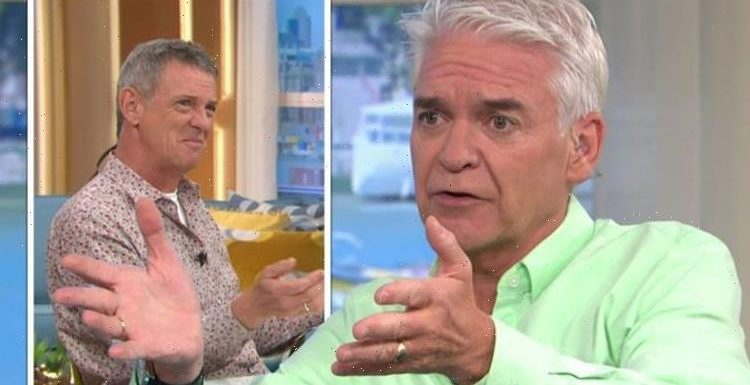 This Morning: Matthew Wright and Phillip disagree over lockdown
When you subscribe we will use the information you provide to send you these newsletters. Sometimes they'll include recommendations for other related newsletters or services we offer. Our Privacy Notice explains more about how we use your data, and your rights. You can unsubscribe at any time.
Phillip Schofield and Holly Willoughby presented This Morning on Monday's (June 21) show. A big topic on the show was the delay to the so-called "freedom day" and easing of coronavirus restrictions in England. The presenting duo welcomed Matthew Wright onto the ITV daytime show to discuss the restrictions currently in place. But, Phillip hit out when Matthew suggested people may have to wait longer for a return to normality.
June 21 was branded by many as "freedom day" as it was the original planned date for coronavirus restrictions to be lifted in England.
But, Prime Minister Boris Johnson recently confirmed there would be a delay to the easing of restrictions.
Instead, most coronavirus rules are set to remain in place in England for another four weeks.
July 19 is the new date government is hoping restrictions can be lifted.
Speaking about the government's approach to the easing of lockdown, Matthew aired his frustrations about coronavirus restrictions.
He seemed aggravated by seeing crowds of fans at recent football matches for the Euro's 2020, as he asked: "Is that sensible?"
The journalist also hit out against the government's choice to push back freedom day, saying: "The 'could' is the thing that annoys me.
"I am sick of vague promises that constantly move. I would always have found it easier if they'd actually said the goal was further away, but it didn't move," he added.
But, Matthew told Phillip and Holly that he believes there's still hope on the horizon.
He explained: "I'm convinced, I'm absolutely convinced we are nearly out of it now.
"There's Susan Hopkins who is a public health England expert who has said that when we get to 70% jabs, as far as she can see there's no reason why we can't go back to a normal life.
"We are at 59 and a half percent, so it's 10 and a half percent to go.
"I think that by September we're going to get there. So by which point…" Matthew said, before being interrupted by Phillip.
The This Morning host was clearly shocked by Matthew's suggestion, as he exclaimed: "September!
"You think we're all going to wait till September? Are you joking?" Phillip asked.
Matthew continued: "No, but that's to get the numbers through, possibly it could be as long as that.
"But, then we will be free," Matthew explained.
However, Phillip still didn't seem impressed as he remarked: "I'm not waiting until September. No chance!"
The new date government is hoping restrictions can be lifted is July 19.
This Morning airs weekdays at 10am on ITV.
Source: Read Full Article