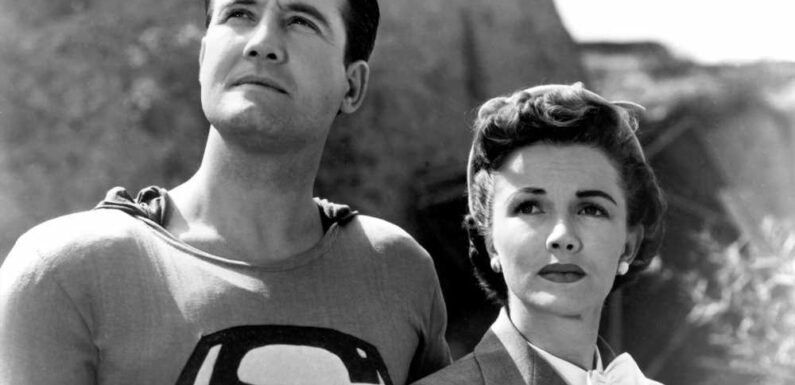 ICONIC Superman actress Phyllis Coates has died aged 96, her daughter confirmed today.
The much-adored movie star played the original Lois Lane in the 1950s series Adventures of Superman.
She passed away from natural causes on Wednesday at the Motion Picture & Television Country House and Hospital in Woodland Hills, California, her daughter Laura Press has confirmed to The Hollywood Reporter.
Coates was best known for starring alongside George Reeves in the black-and-white series Adventures of Superman which was aired on screens from 1952 to 1958.
She starred in all 26 episodes of the first season of the series, but was later replaced by Noel Neill.
But she prided herself on the impressive stunt work she had mastered.
READ MORE ON HOLLYWOOD
SHAKE IT OFF
Huge Hollywood A-Lister joins Taylor Swift at premiere – and it's not Beyonce
LEADING MAN
Harry Potter star is unrecognisable as he transforms into Hollywood legend
"We were nearly blown up, beaten up, exploded, exploited — I guess it was because we were young and dumb, but we put up with a lot of stuff," Coates said in an interview with Tom Weaver for the book, Science Fiction Stars and Horror Heroes.
"Not too long ago I saw [the episode 'Night of Terror'] where I got knocked out!"
The show had been on air for six seasons with a seventh planned but was canceled after Reeves' death aged 45 in 1959.
The first season of The Adventures Of Superman gained fame overnight and Coates was asked to continue her role – but she had already signed on to star in a pilot that was set to star Jack Caron and Allen Jenkins, which was never filmed.
Most read in Showbiz
wedding bells
X Factor legend Ray Quinn in tears as he marries girlfriend Emily Fletcher
'GET RID'
Big Brother fans demand housemate is kicked out after shocking meltdown
TRAGIC LOSS
The Isley Brothers founder Rudolph Isley dead at 84
PRICEY FIGHTS BACK
Katie Price takes brutal swipe at Peter Andre hours before his baby news
But that was not the first time she played Superman's lover as she starred as Daily Planet reporter Lois Lane in the 1951 film Superman And The Mole Men.
The iconic actress was born Gypsie Ann Evarts Stell on January 15, 1927, in Witchita Falls, Texas, before she moved with her family to Hollywood.
Her long and successful career began in Tinseltown in 1940.
Coates quickly landed small supporting roles in films including 1958's Smart Girls Don't Talk and 1949's My Foolish Heart.
Then in 1951, she scooped the part for the low-budget Superman film followed by the first year of the series.
She continued with a fruitful career in television including The Abbott And Costello Show in 1953, The Lone Ranger from 1953 to 1955, Lassie in 1955, The Incredible Petrified World in 1957, and both Gunsmoke and Perry Mason from 1958 to 1964.
She also had a role alongside Barbara Hershey in the 1970s hit TV movie The Baby Maker. 
Her long-lasting career included a staggering 140 credits – and she played her final TV role as Mrs. Howard in two episodes of Dr. Quinn, Medicine Woman in 1994.
In 2006, she was later portrayed by actress Lorry Ayers in the film Hollywoodland which tells the story of an investigator who looks into the death of George Reeves, which was ruled a suicide.
Read More on The Sun
HARVEY WORRY
Katie Price's heartbreak as son Harvey returns to hospital
MY AGONY
I assumed tiny marks all over my son were a rash – his story could save others
Coates was married four times – to TV director Richard L Bare, musician Robert Nelms, Leave It To Beaver director Norman Tokar, and doctor Howard Press – but all four marriages ended in divorce.
The actress is survived by her daughter Laura, another daughter Zoe, and granddaughter Olivia.

Source: Read Full Article