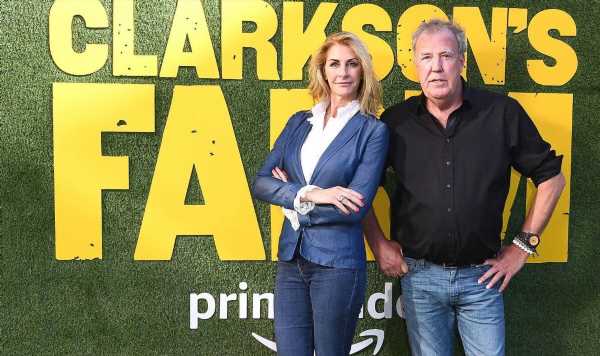 Jeremy Clarkson does 'fracking at the farm shop'
Jeremy Clarkson's girlfriend Lisa Hogan has appeared to confirm the future of Clarkson's Farm.
Lisa took to her Instagram account where she shared a behind the scenes snap of the gang filming for the Amazon Prime series.
In the photo, Jeremy and his sidekick Kaleb Cooper were seen chatting to show producers while they enjoyed a cup of tea.
Lisa simply captioned the photo: "Penultimate week #clarksonsfarm #tractor #amazonprime."
This sparked a huge reaction from Clarkson's Farm fans, with many questioning Lisa about the show's future.
READ MORE Jeremy Clarkson's new farm arrivals after sparking fears he was selling up[LATEST]
View this post on Instagram

A post shared by Lisa Hogan Bentinck (@thetallirish)
Many also quizzed the farmer on whether the series will be back for a fourth outing.
One follower asked: "When is season 3 being aired?" (sic)
"Once they edit," Lisa excitedly replied while another aired their concern, asking: "Hopefully not the penultimate week of the penultimate season."
Lisa was quick to answer: "Nope."
Don't miss…
Jeremy Clarkson's new farm arrivals after sparking fears he was selling up[INSIGHT]
Clarkson's Farm set for rival series as football star fronts new farming show[NEWS]
Kaleb Cooper addresses lifestyle change after stepping away from Clarkson's Farm[LATEST]
We use your sign-up to provide content in ways you've consented to and to improve our understanding of you. This may include adverts from us and 3rd parties based on our understanding. You can unsubscribe at any time. More info
Another went on to ask about season four, to which Lisa hinted that plans were already in place.
Jeremy's girlfriend replied with the OK emoji, which indicated another series was on the cards.
Lisa, Jeremy, and Kaleb often share updates on the series with their social media followers.
The former Top Gear star shared some news of his own as he wrote earlier this year: "Stand by for some fantastic news from Clarkson's Farm."
At the time, he wasn't specific with what news he was referring to, but he soon put his followers out of their misery.
A day later, Jeremy explained they had welcomed some new arrivals to the Diddly Squat Farm.
Taking to X, formerly known as Twitter again, he penned: "And here is the fantastic news. A HUGE amount of piglets," along with a series of snaps of some newborn piglets.
Clarkson's Farm is available to watch on Amazon Prime.
Source: Read Full Article