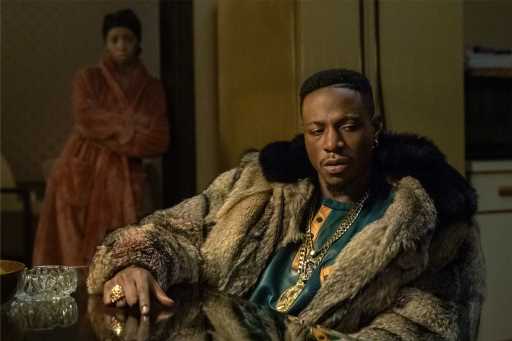 Power Book III: Raising Kanan will return to Starz with Season 3 on December 1. First-look photos can be found below.
New episodes will be available weekly on Fridays at midnight ET/PT on the Starz app, all Starz streaming and on-demand platforms and internationally on the LIONSGATE+ premium streaming platform in the U.K. and Ireland. On linear, it will debut on Starz at 8 p.m. ET/PT in the U.S. and Canada.
With emotions high and the stakes even higher, the show returns to Southside Jamaica, Queens following the Season 2 finale, with the family in turmoil and reeling from the Mob's coordinated attack on Raquel (Patina Miller), Marvin (London Brown) and Lou-Lou (Malcolm Mays).
Related Stories
Breaking News
'Shining Vale' Reveals Season 2 Premiere Date & First-Look Photos
Breaking News
'Power Book IV: Force' Season 2 Trailer: Tommy Egan Is Ready For War With The Chicago Drug World – Update
Over the last two seasons of Raising Kanan, Kanan Stark (Mekai Curtis) has slowly learned the truth about his mother and himself. It has been a tortuous journey for him and everyone around him. With each new revelation, Kanan has been forced to confront his family's seemingly never-ending web of secrets and lies. He has spent much of this time in denial, but now, Kanan's blinders are finally off, and he doesn't like what he sees.
In Season 3, Kanan finds himself grappling with the very notions of right and wrong. Good and evil. Fidelity and disloyalty. And he's not alone. Every member of the Thomas family must confront an existential crisis that challenges their very identity. Whether it's Marvin, who's still trying to redeem himself, or Raq, who's finally coming clean, or Lou, who's wrestling with his own evil, or Jukebox, who's simply trying to break free from her family's pathology, they are all attempting to redefine and reinvent themselves. They won't all be able to complete this intensely personal quest, but for those who do, the destination may reveal the most terrifying secret. There is no right and wrong or good and evil. There are no absolutes. In the end, there's just you.
Raising Kanan also stars Omar Epps as "Detective Malcolm Howard," London Brown as "Marvin Thomas," Malcolm Mays as "Lou-Lou Thomas," Hailey Kilgore as "Jukebox," Joey Bada$$ as "Unique," Shanley Caswell as "Detective Burke" and Antonio Ortiz as "Famous."
Power Book III: Raising Kanan is the second series in the expanded Power Universe franchise. Sascha Penn serves as showrunner and executive producer for season three. The "Power" Universe series is executive produced by the creator and showrunner of the original "Power," Courtney A. Kemp through her production company End of Episode, Curtis "50 Cent" Jackson through G-Unit Film and Television, and Mark Canton through Atmosphere Entertainment MM. Chris Selak, Kevin Fox, Santa Sierra, and Tash Grey also serve as executive producers. Lionsgate Television produces the series for Starz.
More images, including a first look at new cast members Wendell Pierce and Erika Woods as "Snaps" and "Pop" Henry, as well as Grantham Coleman as "Ronnie" and Tony Danza returning as Italian mobster Stefano Marchetti, can be found below.
Must Read Stories
Finishes No. 2 Behind 'Gran Turismo' But Will Become Warners' Biggest-Ever Pic Today
Judge Sets March 4 For Start Of Donald Trump's Trial In Election Conspiracy Case
'Nautilus' Joins 'Spiderwick Chronicles' & 'Doogie' As Series Axed In Content Purge
SAG-AFTRA "Remains Ready At A Moment's Notice" To Resume AMPTP Talks
Read More About:
Source: Read Full Article