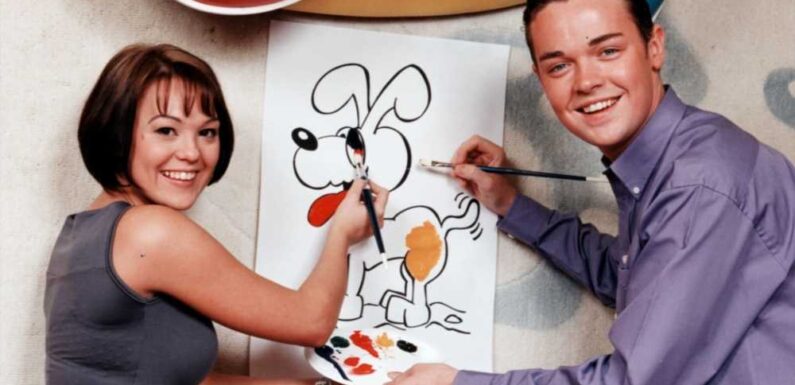 CITV star Danielle Nicholls revealed the dressing room romps during her time on the children's channel.
The presenter who launched her career on CITV alongside the likes of Stephen Mulhern has taken a trip down memory lane after the news broke that the channel is shutting down.
She landed her first hosting role at the age of 19 and was propelled into the world of showbiz.
Danielle, who now works on Talk TV, said how she snogged a pop star and footballer off camera.
In an interview with The Daily Star, she said: "I remember when I was only 19 years old and on CITV I snogged a pop star in the dressing room."
She added: "It was quite cheeky, but I did even more than that with a footballer. The good news there is that I ended up marrying him, so that was okay!"
read more on citv
CITV star speaks out over channel's closure after quitting children's TV
The reason why CITV is closing down
The footballer in question was ex-Bolton Wanderers star Dean Holden, who she married a few years after meeting.
The channel, which launched in 2006, will be closing to make way for a new children's streaming service ITVX Kids.
Danielle expressed her sadness over the channel being taken off air. She pointed out how many successful presenters forged their careers on the show – listing Ant and Dec, Cat Deeley and Andi Peters.
CITV is known for once being the home of old favourites like My Parents Are Aliens, Horrid Henry, Fraggle Rock and The Worst Witch.
Most read in TV
Strictly's Amy Dowden in terrifying sepsis battle as doctorsrushed to save her
Sky News host quits after seven years in shock announcement
Coronation Street star gives birth to third child and shares adorable name
Chris Packham reported to cops after 'sniffing' wild goshawk chick on BBC show
The channel will stop on September 1 at 9pm, according to TV Zone UK.
ITV said in a statement, via Sky News, that the decision to close down the channel comes as a result of falling viewership.
"As a consequence of this new streaming approach and responding to the changing ways children and their parents are increasingly accessing content, the CITV broadcast channel will close after the summer holidays on 1st September."
Holly Willoughby and Stephen Mulhern's Saturday Showdown was the first programme to air on CITV.
Fun House, Knightmare, Children's Ward, Raggy Dolls, Woof, and Art Attack are some of the other classic shows that called CITV their home.
Ghost Train, Press Gang, Danger Mouse, Trap Door and Count Duckula are also shows that were hugely popular when they aired on the channel.

Source: Read Full Article