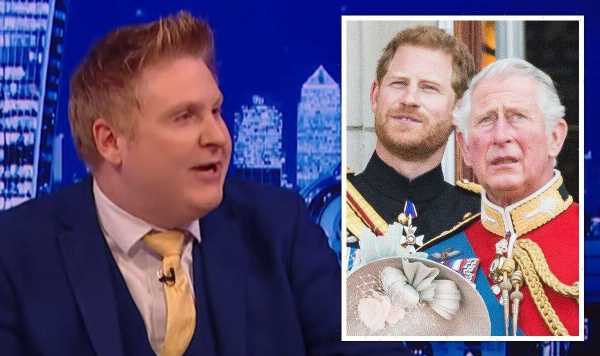 Prince Harry: Experts discuss the possibility of future books
We use your sign-up to provide content in ways you've consented to and to improve our understanding of you. This may include adverts from us and 3rd parties based on our understanding. You can unsubscribe at any time. More info
TalkTV's That Was The WOKE That Was host Andre Walker welcomed panellists Peter Barnes, Lacey Butcher, Anna McGovern and Kara Kennedy on Friday. The broadcasters discussed the latest claim that Prince Harry is "blackmailing" his father King Charles into securing an invitation to the coronation.
Host Andre remarked: "Prince Harry has been accused of blackmailing the Royal Family by threatening to publish another book if he's not invited to the coronation."
Lacey responded: "So does he feel he's actually going to be invited to the coronation?
"He wasn't invited to the Platinum Jubilee so why does he feel that, even though it's his dad's coronation, he now despite his exposé has more of a valid stance to be there?"
"This was always part of a four part book deal," Peter quipped.
Read more: GB News fury as Andrew's ex details how Giuffre photo was 'faked'
"It's not much of a blackmail everybody knew there was going to be four books so why is everybody so surprised by this?"
The host joked: "What's the next one going to be? Colouring in? Dot to dot book?"
"There was a story just the other day where apparently she had quiet reservations over the book," Peter added.
"Their popularity in America has plummeted because you've got people like Jimmy Kimmel going on his Tonight Show rinsing them."
ET Canada has reported that the Duke of Sussex's book deal consists of four editions.
Harry's tell-all memoir Spare was released on January 10.
It's not yet clear the possible subject matters of the three future books.
The Duke of Sussex's memoir became the UK's fastest-selling nonfiction book.
DON'T MISS
Eamonn Holmes brands Andrew's silence over Eugenie baby news 'cruel' [VIDEO]
Prince Andrew is 'using 'Harry's attacks' to 'clear his name' [INSIGHT]
Piers Morgan won't 'play the victim' as he opens up on father's death [INTERVIEW]
In a recent interview promoting his autobiography, Harry refused to commit to attending his father's coronation.
ITV's Tom Bradby asked Harry whether he would be returning to London in May for the ceremony if he's invited.
The Duke of Sussex failed to confirm whether he's received an invite and whether he would attend if so.
Harry said: "There's a lot that can happen between now and then. But, the door is always open. The ball is in their court.
"There's a lot to be discussed and I really hope that they're willing to sit down and talk about it," he continued.
Meanwhile, a new poll has revealed 60 percent of adults believe the Duke of Sussex should be invited to the King's coronation.
The Ipsos survey for The Standard concluded that one third of adults believe he shouldn't be asked to come.
The WOKE That Was airs on TalkTV.
Source: Read Full Article