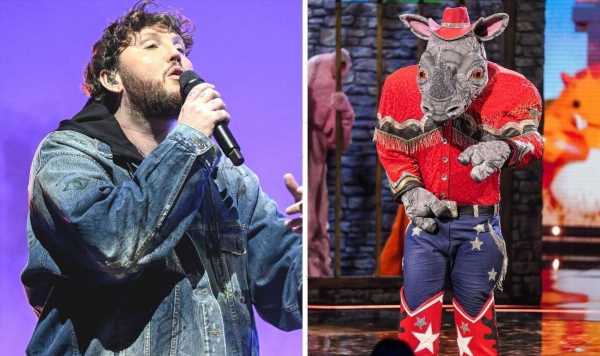 The Masked Singer: Rita Ora guesses Charlie Puth for Rhino
We use your sign-up to provide content in ways you've consented to and to improve our understanding of you. This may include adverts from us and 3rd parties based on our understanding. You can unsubscribe at any time. More info
The Masked Singer viewers continued to play along during Saturday night's episode, with many taking to social media to share their theories about the celebrities' identities. Rhino was the last character to take to the stage, and while some fans are adamant that he is either James Arthur or Charlie Simpson, others are not convinced.
Before the characters performed, Joel Dommett explained their song choice played a big part in who the celebrities were.
Rhino impressed the judging panel as he belted out I Just Can't Wait To Be King from The Lion King.
"My job as sheriff of this town is to keep the peace," Rhino said during his VT.
"I have been known to duel on a few occasions.
"Once, I took on two icons at the same time, and I won."
"Not only that, but I have also battled with the temperature," he went on to add. "I came out victorious too."
Turning to the judging panel, Jonathan Ross threw a random guess into the mix predicting Rhino was Tyson Fury.
Rita Ora shared: "I do think you're a big male vocalist."
The pop star told Joel that she thought Rhino was Charlie Puth, while Davina McCall suggested Alfie Boe.
Mo Gilligan added: "I am going to be a bit different because I saw a flood sign and rising water.
"I think it could be Jason Orange in there."
However, fans seemed to disagree with the judges, as many thought Rhino could be Danny Jones from McFly and The Voice Kids.
Other suggestions were Frank Skinner and Brian McFadden.
Matthew Fisher wrote: "Oh now why I am thinking Danny from Mcfly as well for a Rhino but still think it is Charlie Simpson or James Arthur #TheMaskedSingerUK." (Sic)
Tony Driver shared: "I'm not saying it is, but Rhino and Frank Skinner have the exact same American accent."
"@itsDannyJones Great job as Rhino on #TheMaskedSingerUK mate, absolutely tremendous! I take it the whole jail clue and the king clue is because you share your name with the Hatton garden ringleader and the movie was called the King of thieves? Anyway good job," @Wazzimombler theorised. (sic)
While Karen Illsley tweeted: "@MaskedSingerUK Rhino – Danny Jones. Battles for the voice as a judge, band mate, Dougie was King of Jungle……" (sic)
Carla insisted: "Can we get one thing straight. Rhino is not James Arthur. Thanks."
Donna Whitehead previously tweeted: "I think Rhino is Danny from McFly #MaskedSingerUK ."
"Rhino = Brian McFadden #TheMaskedSingerUK," user @mrskearnsxox commented.
The Masked Singer returns on Saturday at 7pm on ITV.
Source: Read Full Article