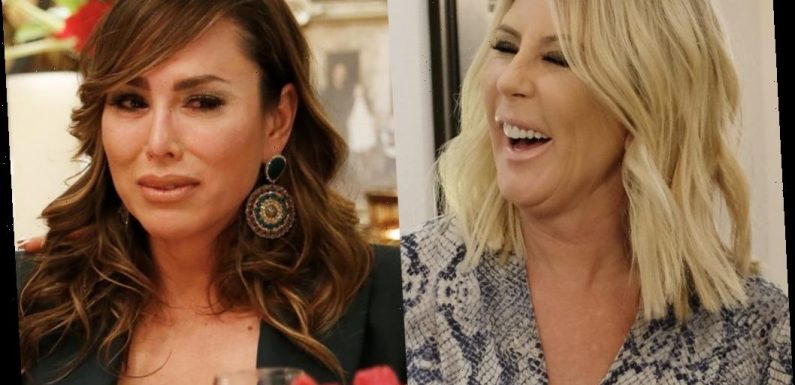 Kelly Dodd of The Real Housewives of Orange County has been at the center of controversy throughout season 15. The Bravo star has received more backlash for what she says on social media, than for the drama she stirs on the reality series. One former housewife that would not want Dodd to continue on the show is Vicki Gunvalson. After the latter reacted to rumors Dodd was getting fired, the polemic reality TV personality clapped back on Twitter.
Vicki Gunvalson and Kelly Dodd's rivalry continues
Things between Gunvalson and Dodd didn't end well during their time together on RHOC. Despite becoming friends when Dodd joined the reality series, they had a major fallout that they were never able to get over. Gunvalson recently called out Bravo for continuing to give Dodd a platform despite her statements about COVID-19.
"Kelly is a living nightmare who continues to make reckless comments with no regard for the impact her words may have," Gunvalson told Champion Daily recently. "While I continue to be surprised Bravo would continue to endorse her behavior- especially given all of the fan pushback on social media regarding the horrendous things she's said- time will tell if she will remain on the show or not."
As season 15 of RHOC ends, there are rumors that Dodd is not going to make it to season 16. Gunvalson reacted to those rumors and Dodd fired back claiming no one in the cast knows if they're returning yet.
"No, I am not fired," Dodd tweeted. "[Contracts] haven't come out yet! Vicki stop being a hater."
Kelly Dodd threatens to quit
Possibly laying the groundwork for the future, Dodd took to social media to say she would not continue on RHOC if Braunwyn Windham-Burke returned. Dodd has called out the latter for faking her alcoholism.
"I think her whole sobriety thing is contrived and I think it's fake," Dodd  said during her appearance on Watch What Happens Live. "I know her well enough that this was a pre-plotted thing that she wanted to do to get her own show. She already had this planned, she wanted to get her own show. Her talent agent told her to stop drinking… it's all contrived. I don't believe she is a real alcoholic."
The animosity between the two is strong and after the RHOC Season 15 reunion ended, Dodd threatened to quit the show.
"I know I cannot film with Braunwyn, I know for a fact that I cannot film with her, there's just no way," Dodd said in an Instagram Live video captured by Queens of Bravo. "If she comes back then I'm out because I know for a fact that I cannot [film with her]. She's dangerous and calling people racists and homophobic."
"I just can't come back next year filming with somebody so reckless. If she's on, I'm probably out. And she says she couldn't film with me," Dodd added.
As of now, Bravo has not confirmed which housewives will be getting a renewal contract for season 16. The Real Housewives of Orange County is expected to start filming in the coming weeks and air on the cable network later this year.
Source: Read Full Article