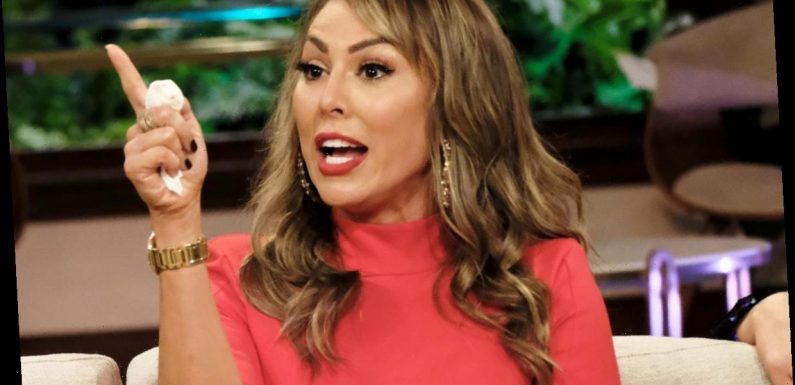 Real Housewives of Orange County star Kelly Dodd has ruffled more feathers with her continued criticism of harsh COVID-19 protocols. Kelly recently posted a series of videos that featured her out in a California restaurant with her husband, Rick Leventhal, and some pals.
And she has finally admitted that her views about the pandemic — and how producers feel about Braunwyn Windham-Burke — could end up getting her fired.
Kelly Dodd shoots down claims that she's a 'superspreader'
California Governor Gavin Newsom recently lifted many of the state's COVID restrictions. And Kelly and her friends finally got the chance to dine out again after months of lockdowns. According to Us Weekly, Kelly shared a few videos while dining out that featured her with Rick and their friends enjoying a meal at Billy's at the Beach in Newport, California.
In one clip, Kelly shouted "Cheers!" and she and other diners raised their glasses to superspreaders. No one was wearing a mask in the clip. And one of her friends shouted "spread that sh*t" and let out a fake cough.
While keeping up with the fan response to her videos, Kelly said that she was "getting a lot of hate for being at a restaurant we're allowed to be at." Later, the 45-year-old took to her Instagram story to call out the haters who accused her of being a superspreader.
"I'm not a superspreader because there's nothing to spread," she said. "We all got the vaccine and we don't have it, so there's nothing to spread about superspreaders. The sheeple are mad."
The 'RHOC' star lost her partnership with Positive Beverage
Kelly continued to post videos over the weekend of January 30 and 31. In one clip, Kelly was having dinner with California gubernatorial hopeful Major Williams. She and her friends also called out Newsom, who is currently the target of a recall petition.
The RHOC star proceeded to ask Williams about his views on mask mandates. He replied that he was "pro-choice" when it came to masks. And one of Kelly's friends shouted "My body, my choice." Kelly herself said that "Gavin's going down."
After Kelly posted her videos, Positive Beverage confirmed that they had ended their partnership with the RHOC star. The brand's founder and CEO, Zack Muchnick, later released a statement to explain that "today was a rough day."
"Our stakeholder, Kelly Dodd, was distanced from our company as an ambassador of the brand after the recent weeks and days of social media presence, indicating her opinions about people and the pandemic," Muchnick said. "Unfortunately, these values weren't aligned with our tone and priorities of inclusion, diversity, wellness and health within every pillar of daily life."
Muchnick went on to say that Kelly will remain a minority shareholder in the company. However, they made the decision to "formally sever ties with her endorsement and likeness with the brand."
Kelly Dodd admits that she will 'likely' be fired
Kelly responded to Muchnick's statement in a tweet. She said she was glad she could help put the brand on the map and she wishes them well. In a second tweet (which has since been deleted), the RHOC star called out TMZ and explained why she was partying with friends at a restaurant over the weekend.
"Hey @tmz my goal [Saturday] was to promote the reopening of a local biz closed since March. The crowd was celebrating finally enjoying food & drink in a bar & I don't know the person who yelled 'superspreader.' There was never an intent to harm, only to appreciate a slice of normal," she wrote.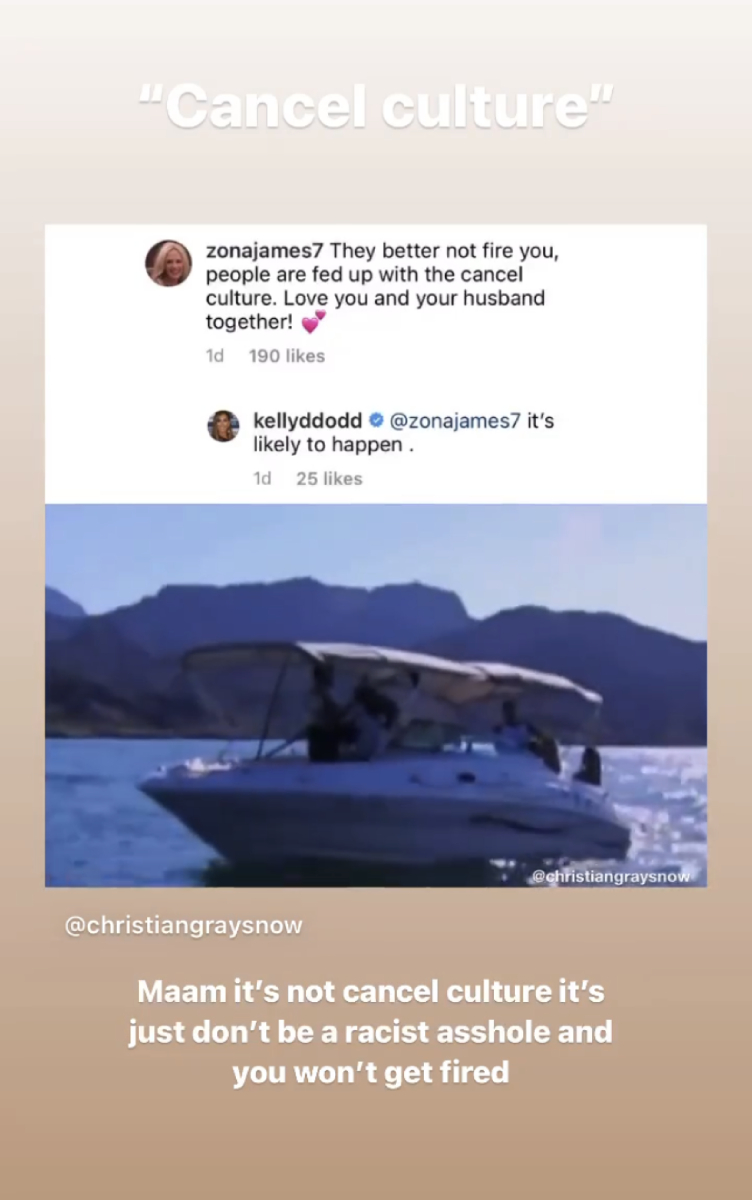 Before Kelly posted the videos, she addressed rumors that Bravo had fired her from RHOC. She said the rumor wasn't true, and blamed Vicki Gunvalson for spreading the false story.
However, since then Kelly has admitted that her time on Bravo could be coming to an end. When a fan on Instagram wrote that Bravo "better not fire you" and "people are fed up with cancel culture," Kelly did respond. She simply wrote, "It's likely to happen."
Kelly also told another fan that if producers side with Braunwyn Windham-Burke, then she would be "fired because of my beliefs."
Real Housewives of Orange County is currently on hiatus.
Source: Read Full Article