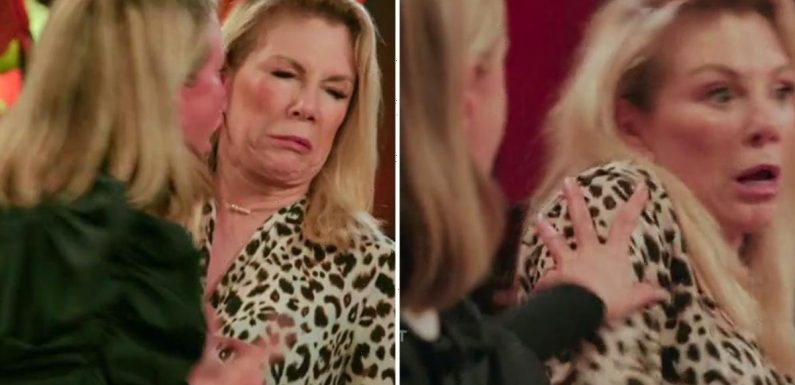 REAL Housewives Of New York's Sonja Morgan slapped and pushed costar Ramona Singer while "drunk" during a heated fight on tonight's episode. 
The Bravo star has fans worried after she lost her temper following the consumption of multiple glasses of wine during a group trip to upstate New York. 
💍Follow all our latest news & stories on Real Housewives.
Cast mate Leah McSweeney – who had been sober for nearly a year at the time of filming – claimed Sonja, 57, and her drinking "sucked the fun" out of the day when vibes began to get dark. 
Sonja began an alcohol-fuel tirade, which included her saying: "the poor are getting poorer and the homeless are getting homeless-er." 
She then proceeded to call a male pal who works for JP Morgan – her ex husband John Adams Morgan's company. 
RHONY newbie Eboni K. Williams took the phone and explained that she was happy with JP Morgan's efforts with Chase Bank to "narrow the wealth gap" in the Black community. 
However, Ramona, 64, then chimed in by saying that "Wells Fargo has better rates." 
The brief comment sent Sonja into a frenzy – as she turned to her pal and repeatedly yelled "shut the f**k up!"
Sonja then hits Ramona's shoulder and pushes her down in her chair, once again screaming "shut the f**k up!"
Ramona stood up and exclaimed "stop it" but Sonja also got on her feet – and got in her costar's face. 
She is now red in the face and shouted: "You want to talk about Wells Fargo? it's not my family! It's not JP Morgan!"
"Stop drinking! What is wrong with you?" Ramona yelled back.
More to follow…
For the latest news on this story keep checking back at Sun Online.
The Sun is your go to destination for the best celebrity news, football news, real-life stories, jaw-dropping pictures and must-see video.
Download our fantastic, new and improved free App for the best ever Sun Online experience. For iPhone click here, for Android click here. 
Like us on Facebook at www.facebook.com/TheSunUS and follow us from our main Twitter account at @TheSunUS.
Source: Read Full Article