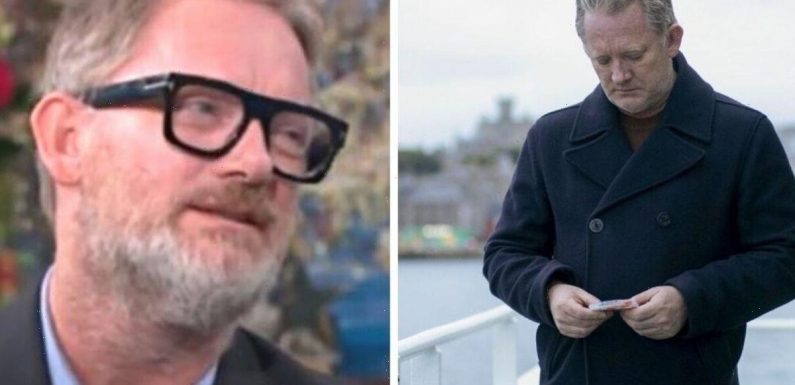 Shetland: Douglas Henshall on show's future after his exit
We use your sign-up to provide content in ways you've consented to and to improve our understanding of you. This may include adverts from us and 3rd parties based on our understanding. You can unsubscribe at any time. More info
Appearing on Friday's This Morning, the DI Jimmy Perez star detailed a new project he has moved onto since his Shetland exit, and made it clear he would definitely not be respiring his role on the BBC crime drama in the future.
Douglas, 56, portrayed Jimmy Perez in the Scottish thriller for a decade.
Viewers were left devastated when he announced he would be stepping down from the role earlier this year as he thought his character's storyline was "coming to a natural end".
Season eight of the popular drama will have a new protagonist, and the actor made it clear he wouldn't be revisiting Jimmy in the future.
It came as he sat down with This Morning presenters Alison Hammond and Shetland superfan Dermot O'Leary to discuss his exit from the show on Friday.
"So would you ever see yourself going back to it then, maybe a one-off, because he [Jimmy] is very much very much alive!" Alison pointed out on the magazine show.
"No, no," Douglas replied firmly, shaking his head. He assured the host: "I'm done."
"He's done!" Alison repeated as Dermot revealed: "Well, one of the reasons you're done is because you get to do theatre!"
The actor is currently starring in Mary, where he depicts a 16th-century Scottish diplomat.
It's not Douglas' first stage role, as he previously starred as Oliver Cromwell in a different historical drama, 55 Days.
Mary will run until November 26 at Hampstead Theatre, and the role is a world away from the police inspector he is so well-known for.
The Shetland icon also delved into his own views on the programme and who he believes should take over as the detective protagonist in light of Jimmy's exit.
"Alison O'Donnell, your co-star, she could pick up the mantle, couldn't she?" Dermot predicted. "She's terrific!"
Douglas seemed to agree his character's former sidekick, Alison "Tosh" McIntosh, would be the perfect replacement.
"Yeah, I mean, that's what I would like to see," he replied. "I don't know if it will happen or not, but that would be my preference."
Alison went on to probe the actor about whether he feels protective over the series as it continues to unfold without him.
"Do you feel protective over it now?" she asked. "If you know it's going to carry on without you, do you feel protective over how they're going to do it?"
"Well, I don't know to be honest," he stated. "I try not to think about it too much.
"I kind of think, well, I love what we all did together, and I'm very happy with that.
"I mean, it's going to be a different show now. So, I mean, I wish them all every success, but I don't know that I'll be able to watch it."
Shetland is available to watch on BBC iPlayer.
Source: Read Full Article