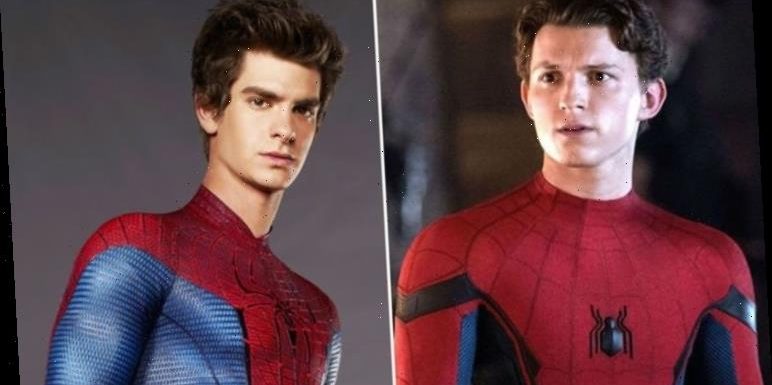 Tom Holland reveals he has received the Spider-Man 3 script
When you subscribe we will use the information you provide to send you these newsletters.Sometimes they'll include recommendations for other related newsletters or services we offer.Our Privacy Notice explains more about how we use your data, and your rights.You can unsubscribe at any time.
Spider-Man No Way Home is set for release this Christmas and will star Tom Holland and Benedict Cumberbatch's Doctor Strange. Rumours have been rumbling for months that Andrew Garfield and Tobey Maguire's Sony Peter Parkers will feature as the Marvel multiverse collides, but Holland denies this. And yet now fans have spotted an interesting development on Instagram that could support this theory.
Yesterday, Andrew Garfield's stunt double William Spencer shared a video from a film set where he was attempting a challenge of the day.
But in the description of the now-deleted Instagram video, he wrote: "Also not pictured because he did the challenge too fast to be filmed @gregtownley."
Spider-Man fans will know Greg Townley is Holland's Spider-Man stunt double, so just what set could these two be hanging out together on but that of Spider-Man No Way Home?
Fan account Spider-Man No Way Home Updates also took a screenshot of a liked comment that said: "Are u on the set of Spider-Man No Way Home?"
The account wrote: "Andrews stunt double also liked this comment, developing rumours of their involvement in #SpiderManNoWayHome.
"Remember: None of this is a 100% confirmation!"
Of course, none of this suggests Maguire's Peter Parker is in the movie too, but we'd be surprised if it wasn't both of them due to other reports of returning Sony Spider-Man villains from his era.
Last year, The Hollywood Reporter claimed that Jamie Foxx's Electro from Garfield's The Amazing Spider-Man 2 and Alfred Molina's Doc Ock from Maguire's Spider-Man 2 would be reprising their roles.
While other scoopers since then have claimed Willem Dafoe's Green Goblin and Thomas Haden Church's Sandman have had talks to reprise their roles from Maguire's Spider-Man trilogy.
What's particularly interesting is the involvement of Benedict Cumberbatch's Sorcerer Supreme, three months before his second solo outing Doctor Strange in the Multiverse of Madness.
Perhaps the MCU multiverse will open up in Spider-Man No Way Home with the Marvel wizard having to deal with Sony universe characters in his next outing.
Furthermore, Maguire Spider-Man trilogy director Sam Raimi is helming Doctor Strange 2, so maybe these Sony characters will also feature in that follow-up blockbuster too.
Marvel fans will remember Doctor Strange is mentioned in Raimi's Spider-Man 2, so perhaps his Multiverse of Madness movie will visit the Sony universe.
Whatever the case, it's possible that Spider-Man No Way Home will introduce the Sinister Six, a group of villains that the three Peter Parkers have to take on together.
This could also include Michael Keaton's Vulture, who is next set to feature in Jared Leto's Morbius movie next year.
Of course, the big question remains: where is all this multiverse exploration leading when Avengers 5 hasn't been announced yet?
Well, one popular theory out there is that Avengers 5 will explore the Secret Wars comic book storyline.
The narrative saw the Marvel multiverse collide with different incarnations of the same characters coming across each other.
In this story, Battleworld is policed by an army of alternate Thors and interestingly Thor Love and Thunder has at least two with Natalie Portman's Jane Foster becoming The Mighty Thor.
Spider-Man No Way Home is released in cinemas on December 17, 2021.
Source: Read Full Article