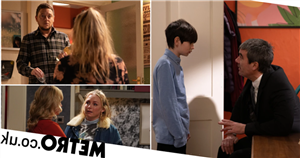 There's a marriage proposal coming up on Emmerdale soon as Amy (Natalie Ann Jamieson) proposes to Matty (Ash Palmisciano). But could she have a hidden agenda?
Matty certainly thinks so as he starts to think that Amy is thinking more about her custody battle for Kyle (Huey Quinn) than she is about him. Does she think that being married will give her a better chance of winning sole custody of her son? He confides his fear in Moira (Natalie J. Robb), who predictably enough is raging when she hears that Amy plans to take Kyle away from her and Cain (Jeff Hordley).
And when Cain finds out he wastes no time in heading off to Amy's to confront her and enlists his brother Caleb (William Ash) to see if there's any way that he can use his legal contacts to block Amy's plan.
Soon, however, things take a different turn when a fight between Kyle and young Carl Holliday (Charlie Munro Joyce) turns violent. Nicola (Nicola Wheeler) threatens to call the police as she blames Kyle for what's happened, citing the fact that he's already been accused of the murder of Al Chapman (Michael Wildman).
Cain and Amy plead with Nicola not to get the police involved, knowing what that could mean for Kyle. Nicola eventually relents, but it's Amy who persuades her and Cain has the gut-wrenching realisation that Nicola – and a lot of other people in the village – blame his toxic influence over Kyle on the boy's recent behaviour.
He comes to the conclusion that he's no good for Kyle and that his son would be better off without him.
He announces to a heartbroken Moira that he won't block Amy's plan to have full custody of Kyle, and in fact thinks he should cut off any contact with his son for Kyle's own good.
Moira is convinced her husband is making a massive mistake that he'll regret forever. Even worse for her, if Amy, Matty and Kyle move away together as a family, which is what Cain thinks would be best, Moira risks losing Matty too.
Will Cain realise he's wrong? Or is it goodbye for Amy, Matty and Kyle?
Source: Read Full Article