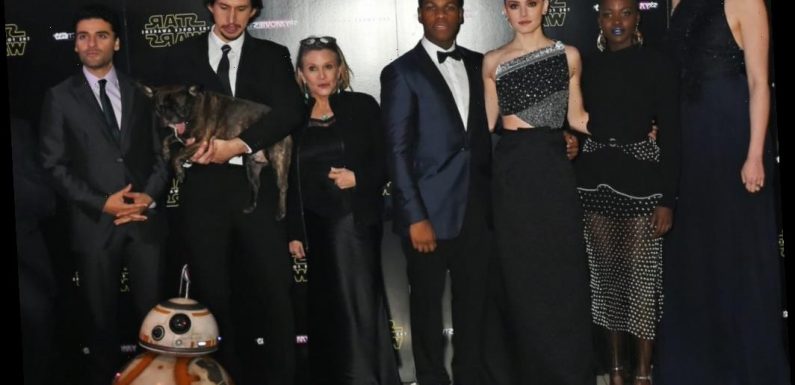 Adam Driver generally doesn't watch the movies and television shows he stars in. That's because doing so makes him feel physically unwell. But when it came to Star Wars: The Force Awakens, Driver got to witness himself playing Kylo Ren in the company of the one and only Carrie Fisher.
Adam Driver doesn't watch his movies, but he will watch 'Star Wars'
Like many other actors, Driver doesn't enjoy watching his own work back. While some actors like to watch their movies and TV shows to see where they could have improved, Driver is of the mindset that the work is done and he can't change it, so why analyze it?
For instance, when the HBO series Girls debuted, Driver watched the show back with creator and co-star Lena Dunham. "I was like, 'This is f*cking terrible,'" Driver told Esquire. "Not the show, but the experience."
Star Wars is one of the only movies Driver will watch. "There's such a visual thing going on," Driver told the Los Angeles Times. "Especially with the first one where they were like, 'Trust us — there's space behind you. Trust us. Your lightsaber looks like this.' So I needed to see how it would come together." 
Watching himself act in 'Star Wars' makes Adam Driver feel 'sick to his stomach' 
One of the main reasons Driver doesn't watch his own movies is because it's hard to not see himself, even in movies like Star Wars. "To really absorb it, I feel like you've got to watch it a lot to think that it's not you there doing it," he explained. "To look at the story and not just all the mistakes you made." 
But being such an iconic role in such a memorable franchise, Driver had to witness Star Wars — even the scene where Kylo Ren kills Han Solo (Harrison Ford). "When I watched the premiere, I felt sick to my stomach," Driver told GQ. "Immediately, I thought I was going to puke." Driver had a slightly more intimate experience watching the movie the first time.
Adam Driver watched 'Star Wars: The Force Awakens' with Daisy Ridley, Carrie Fischer, and her dog
What better way to watch your Star Wars debut than with your castmates? Driver did just that watching his performance as Kylo Ren in The Force Awakens for the first time.
"I was very numb," the actor admitted to the LA Times. " It was a lot to take in. The first time I saw it was with Carrie Fisher and Daisy Ridley and Carrie's dog, Gary. You don't know how to feel."
Driver did watch The Force Awakens again at the premiere. "I had never sat in the audience of a premiere of a movie I was in before," he said. He was worried about how the audience would receive his character killing Han Solo.
Fortunately for Driver, "the response was so nice." By the time The Last Jedi was released, Driver was ready to see the film. "I didn't have to almost puke that time," he added. "I feel like I'm making progress."
Source: Read Full Article