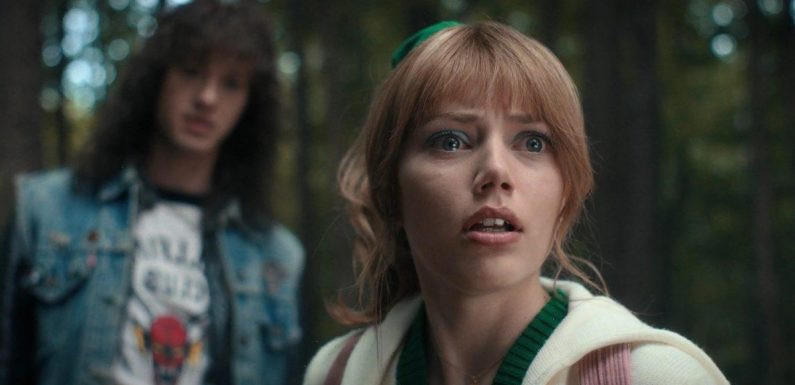 Sometimes the tiny moments leave a lasting impact. Fans could not help but smile and swoon over Eddie Munson and Chrissy Cunningham's sweet moments together in Stranger Things Season 4. They exist in two different worlds regarding high school and society. Eddie is the metalhead with a criminal record, and Chrissy is the pristine cheerleader. But Joseph Quinn and the Duffer brothers saw their potential as a couple.
[WARNING: This article contains spoilers for Stranger Things 4 Volume I]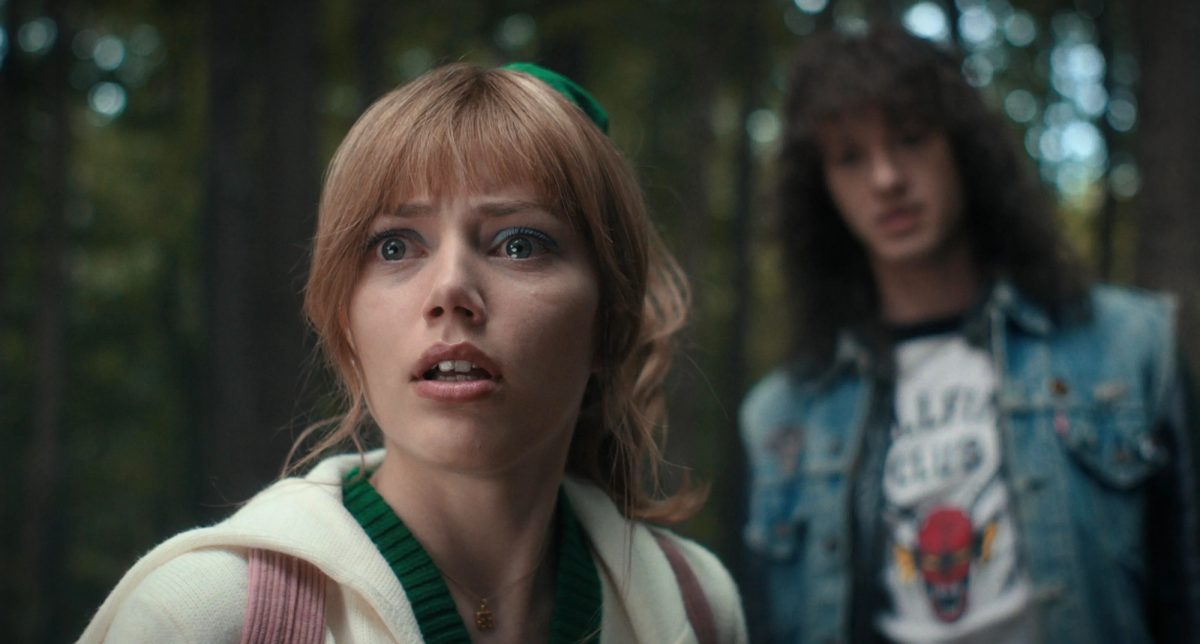 Eddie helps Chrissy crack a smile as she is being haunted by Vecna in 'Stranger Things' Season 4
The first victim Vecna sinks his claws into is the "Queen of Hawkins High," Chrissy. The kind-hearted cheerleader red-head is anything but snotty or unkind. Unlike common depictions of high school hierarchy in movies and TV, Chrissy is a sweetheart. But she becomes Vecna's first due to her past trauma and anorexia.
Fans see how Vecna starts to make her insane and fearful of her life. In "Chapter One: The Hellfire Club," Eddie finds her in the woods. Their time together proves Eddie is anything but the delinquent D&D player people make him out to be and fans' new favorite crush.
Eddie and Chrissy sit together as he is hesitant to sell her drugs in Stranger Things Season 4. Seeing she is not OK, he asks what is wrong. Chrissy unburdens herself by asking if he ever feels he is losing his mind. Eddie comically answers, "you know, just…. on a daily basis." This starts a meaningful conversation between the two.
Eddie asks Chrissy if she remembers him from middle school. She does not, and Eddie falls to the ground in shock to make her laugh. After some help, Chrissy happily remembers his band Corroded Coffins. They let go of their high school tags, and Chrissy admits she believed what everyone said of him being scary.
Joseph Quinn hopes Eddie and Chrissy are the unlikely couple in another universe
Eddie and Chrissy are the opposites attract couple fans love seeing on the small-screen. But sadly, the two characters' possible romance is short-lived when Vecna kills Chrissy. Eddie is made out to be the culprit. But Quinn revealed to Netflix Tudum that he hopes Eddie and Chrissy get their shot in another Stranger Things world.
"It would be lovely if there was a world in which [they could] be a pretty uncouth couple at Hawkins High that I think might shake things up a little bit," said the actor. Quinn even reveals the scene with Grace Van Dien in the woods is the one he is most proud of, "I just wanted to show someone that felt real."
Even the Duffer brothers were in awe of the chemistry between Eddie and Chrissy in Stranger Things Season 4. Matt Duffer explains to TVLine, "The scene came alive in a way that was just so beautiful." But the creator also reveals they were too heartbroken over having to kill Chrissy.
"We always have those moments [of 'What have we done?']," said Matt. The sentiment came because they had already filmed Chrissy's death before her emotional scene with Eddie in the woods. For fans, Eddie and Chrissy were a missed opportunity as an endgame couple.
Fans ship the two characters based on their one scene together
The on-screen chemistry between Eddie and Chrissy in the first episode of Stranger Things Season 4 had fans convinced they were a perfect match. Amid Chrissy's darkness, Eddie is the only one to have made her laugh and smile.
A fan on Twitter comments, "In the alternate universe, when Chrissy goes to Eddie's house, Eddie asks her what her favorite song is and plays the song with his guitar So Vecna can't catch Chrissy."
Another fan comments on Twitter, "What I loved about them is they were only totally different spectrums but both realize they are exactly the same, just took both of them to talk to realize that, I love the lesson there."
A fan also chimes in on the missed opportunity, "Was disappointed when they killed Chrissy actually. I think their dynamic would be awesome and give "The breakfast club" vibes which would have been nice to see unfold and things progressed. They robbed Chrissy and Eddie of a good opposites attract situation. Unforgivable." Maybe Eddie and Chrissie had their The Breakfast Club romance in another world.
Source: Read Full Article