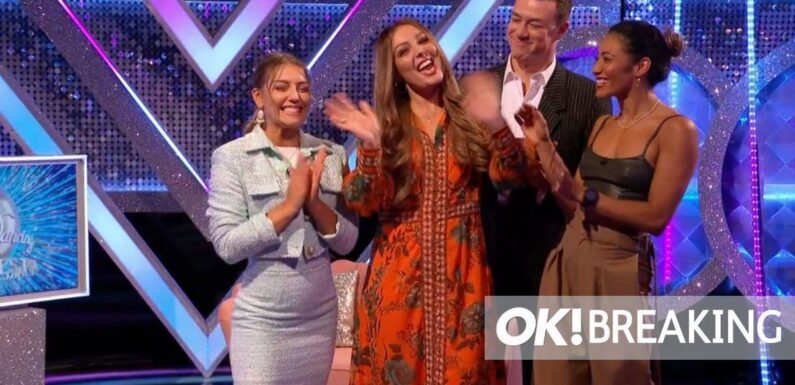 Amy Dowden has made her second return to the world of Strictly Come Dancing, with an appearance on the show's companion show It Takes Two.
Opening up about her return to Strictly on Saturday amid her cancer battle, the professional dancer said: "I just felt like I was home. just missed it so so much and I just loved being there."
And discussing her cancer treatment, Amy continued: "So I've got chemotherapy tomorrow, session six, so I'm over halfway, I can see the finish line.
"I'm not going to lie, it is thought, but I'm staying strong and positive and I just want to raise as much awareness as I possibly can and get everybody to check their chests."
And opening up about shaving her head, Amy shared that losing her hair had been rather traumatic for her, as she explained: "I found losing my hair really traumatic.
"It didn't matter how much I prepared myself for it, I couldn't even brush my own hair in the end, my husband Ben was having to do it. I couldn't deal with seeing the amount of it that had come out.
"I couldn't look in the mirror in the end, because I was bald on top, and I just told my family I'm shaving it tomorrow and we did it."
This comes after she made a surprise return to Strictly on Saturday after being invited onto the BBC hit dancing show to read the terms and conditions, when she opted to appear without her wig, later saying that she had "embraced the bald."
Ahead of her appearance on It Takes Two on Wednesday, 11 October, Amy took to her Instagram Story, where she posted a video telling fans: "I'm going to be on Strictly It Takes Two, speaking to my lovely friend Janette [Manrara] so tune in.
"It's going to actually be my first live interview, talking about my cancer and Strictly and everything like that so if you're around please tune in."
She followed this with a selfie, to which she added the text: "The face of someone very excited for their first it takes two of the season tonight eeeekkkkkk"
And returning to Instagram later on, Amy shared a backstage snap as she prepared to appear on the live show, adding the caption: "Time to get it takes two rrrrrrready @sburrowsmakeup [pink heart emoji] [pink bow emoji]"
Following her appearance on Saturday's Strictly, Amy had taken to social media to open up about "embracing the bald" as she opted to appear on the show without her wig.
She wrote: "There are no words to describe the pure joy and happiness I felt last night being back with my @bbcstrictly family. It is their love and support that gave me the courage to decide last minute to step out and brave the bald."
And the continued: "Not saying it was easy and I still miss my long hair dearly but gosh did it feel liberating and it's breast cancer awareness month which gave me that extra push to do it."
Amy, who revealed she'd been diagnosed with Grade 3 breast cancer in May this year, also revealed that it was supportive messages from fans that inspired her to ditch the wigs she's been wearing, for the show.
"It's messages like the above which is why I use my platform to raise awareness," she explained, adding in a supportive Twitter post, "and hopefully give others confidence #baldisbeautful."
She finished: "Can't wait to back there with the strictly family again soon."
Source: Read Full Article