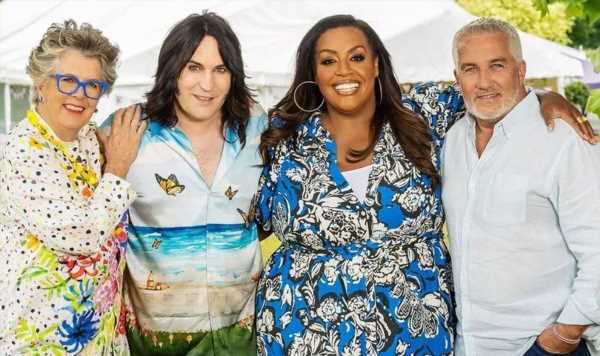 GBBO: Abbi in tears as she is the next baker eliminated
The Great British Bake Off fans have been left bereft after learning that next week's show will be moved to accommodate football.
The hugely popular Channel 4 show is usually broadcast at 8pm on Tuesdays but next week, England plays Italy in the Euro 2024 qualifier which will air from 7pm.
That means that episode four of the current series will now air on Wednesday, October 18 instead.
Fans were not impressed and took to X, formerly known as Twitter, to air their grievance.
A user called @sabrinajaine wrote: "Stupid football means we have to wait till Wednesday next week! #GBBO."
READ MORE: EastEnders' Theo Hawthorne star details challenging project away from BBC soap
@Georgia EH17 was so aggrieved that they typed in all capitals: "NO BAKE OFF TILL NEXT WEDNESDAY BECAUSE OF THE FOOTBALL I DO NOT CARE GIVE ME BAKE OFF #gbbo." (sic)
@Barnickal agreed commenting: "Yep. Outrageous. Should be: 'The football has been moved to Wednesday to accommodate the #GBBO'!" (sic)
Meanwhile, @grahamandren advised people to stock up on treats for the next show writing: "It's Wednesday next week due to the football. Boo, football chocolate week though that means we will have to stock up for next week #gbbo."
As he indicated the show will return to the always-popular Chocolate Week, and the Signature Challenge will see the bakers make a torte.
The contestants will then take on a Technical Challenge involving cheesecakes before the Showstopper Challenge will test their ability to construct a chocolate box.
Don't miss…
Neighbours' Toadie star speaks out on quitting soap[EXCLUSIVE]
Big Brother hosts AJ and Will 'not trying to mimic or imitate' previous hosts[EXCLUSIVE]
Princess Diana to appear as ghostly vision to King Charles in The Crown[SPOILER]
We use your sign-up to provide content in ways you've consented to and to improve our understanding of you. This may include adverts from us and 3rd parties based on our understanding. You can unsubscribe at any time. More info
It will also be revealed if Bristol baker Tasha Stones can hold onto the Star Baker title for the third week in a row. The show's first ever deaf contestant has managed to nab the accolade for the past fortnight despite admitting at the start of last night's show that she had "bread dread".
"You understand bread, and I like that," Paul Hollywood gushed after she presented the judges with a flawless showstopper. Prue added: "You are one hell of a bread baker."
Last night also saw Abbi Lawson eliminated much to fans disgust as they felt she deserved to stay in the contest. Despite being sent home Abbi said that she had a "truly wonderful time."
"I'm really proud of myself. I'd never thought I'd be able to do this," she said. "It's given me such a massive confidence boost and I've met such amazing people."
The Great British Bake Off will next air on Channel 4 at 8pm on Wednesday October 18.
Source: Read Full Article