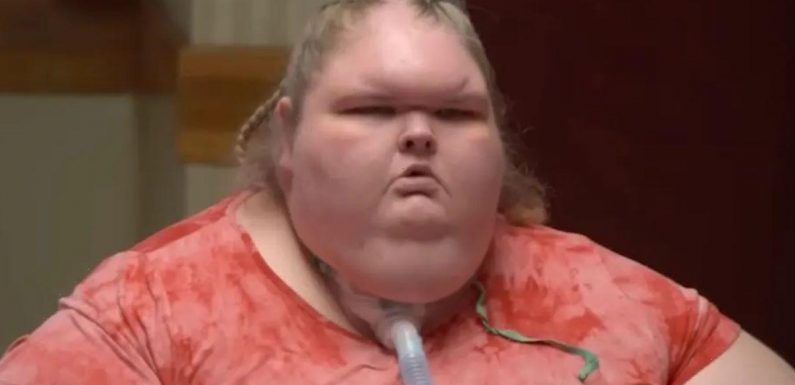 TLC shares funny montage of Tammy and Amy Slaton
We use your sign-up to provide content in ways you've consented to and to improve our understanding of you. This may include adverts from us and 3rd parties based on our understanding. You can unsubscribe at any time. More info
1000lb Sisters fans are clearly impressed with original star Tammy as she continues to parade her much slimmer figure following her dramatic transformation. Posing for new snaps with fans, Tammy looks completely different as followers gush over her "amazing" figure.
In another outing, Tammy met with more fans of the popular TLC reality programme, posing for selfies with show viewers.
She has been seen in several new snaps over the last month as she gets out and about with sassy sister Amy, meeting followers as they go.
One recently bumped into Tammy and Amy at an event earlier this week, sharing a smiley snap with the TV siblings.
They looked worlds away from their original appearance on 1000lb Sisters back in 2019, both wearing matching outfits for the photograph.
View this post on Instagram

A post shared by Stacey(@hellostaceyy)
User @Hellostaceyy captioned the upload: "Met Tammy & Amy today."
Replying to curious viewers in the post's comment section, after attracting dozens of likes, the Instagrammer said the sisters "were so nice".
Account @Michelle.ralls.7 commented: "So jealous! I'm truly amazed at Tammy!"
While @Caitlin.collin wrote below the post: "Ahhhh jealous !! Tammy looks so good too! Just saw the episode she had her surgery."
In another upload, user @Helena.becher also shared a snap with the duo, seemingly on a different day given the pair's outfit change-up.
They wrote: "I was lucky enough to meet them!!!"
"They are actually so funny and very nice! it was great getting to talk to them," the user added.
Her latest outing comes after fans said Tammy "proved us wrong" after sharing a slurry of new pictures, once again showing off her weight loss.
Don't miss…
Emmerdale exit for Naomi as fans 'work out' Alex's identity [LATEST]
Tammy Slaton shares pregnancy hopes after smashing weight loss goals [LATEST]
1000lb Sisters fans outraged by Tammy Slaton's 'selfish' rehab demands [LATEST]
Tammy wore her glasses and appeared to apply some light make-up for the newly-released pictures on her own Instagram account – finishing off her get-up with a gold necklace.
Fans said they were all "rooting" for Tammy who currently stars alongside her sassy sister Amy in the fourth season of 1000lb Sisters on TLC.
User @illglamronnie wrote in the post's comments: "I think I speak for everyone when I say WE ARE SO PROUD OF YOU."
While @rdstarling commented: "Gotta admit Tammy, you proved a whole lot of us wrong. Way to go & keep it up!"
Instagrammer @morganmom99 said: "Omg Tammy you look amazing! And no more trach! I have cried on every episode this season! You freakin did it girl! I am so proud of you!"
Account @lisa2023adams added: "Wow, what a big difference keep going Tammy."
While @wingmom89 wrote: "We are rooting for you Tammy! You deserve a good life. Never let anyone tell you otherwise."
1000lb Sisters season 4 continues Tuesdays on TLC in the USA.
Source: Read Full Article