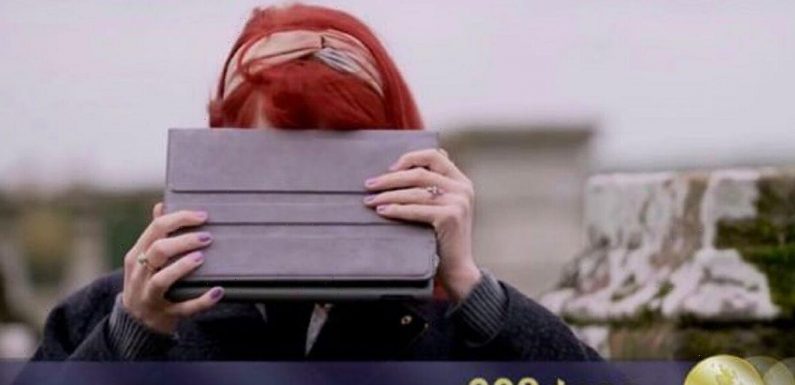 Antiques Road Trip: Presenter fails to make profit on 'favourite' item
We use your sign-up to provide content in ways you've consented to and to improve our understanding of you. This may include adverts from us and 3rd parties based on our understanding. You can unsubscribe at any time. More info
Antiques Road Trip presenter Izzie Balmer hid her disappointment behind an iPad as she looked on while a vase she was selling failed to do as well as predicted by auctioneers. The daytime show sees experts given £200 to find unique items to auction in order to try to turn a profit. Izzie teamed up with Ishy Khan to hunt for bargain antiques in Nottingham.
As she perused Donkey's Years Antique Centre in Knaresborough, she was drawn to an Art Nouveau vase, which she believed was "Christopher Dresser" in its style.
Christopher Dresser was a British designer and design theorist, who is widely lauded as one of the first and most important independent designers.
Although the item was priced at £75, she used her bartering skills to get it for £60.
Explaining why she purchased it she said: "This sort of item used to do so well – it used to be really popular, which is why I bought it.
"I sort of hoped it might be a Christopher Dresser design or similar."
The Auctioneer was also drawn to it selecting it as a favourite.
They said: "The arts and crafts vase is one of my favourite lots. I think it's absolutely beautiful.
"I love the bamboo detailed handles. I think this is going to attract a lot of interest."
Despite their collective optimism, the sale got off to a bad start though.
The first bid was below Izzie's expectations, which caused her to cringe and hide her face behind her iPad.
She said: "I'm just hiding until it gets into a profit."
Unfortunately, it failed to make a penny for her although she did at least manage to break even getting her £60 back.
DON'T MISS:
The Repair Shop guest breaks down over treasured item [SPOILER]
EastEnders couple torn apart after Lola Pearce's health takes a tur… [SPOILER]
Coronation Street exit as Stephen Reid leaves Carla Connor for dead [SPOILER]
The experts don't get to keep any profits they make on the show as they are donated to Children in Need and occasionally they make quite significant amounts.
In episode five of series 15 a rare antique camera, bought for just £60 by Paul Laidlaw, sold for an extraordinary £20,000.
Paul stumbled upon it while shopping for curios and collectables in Margate, Kent.
He inspected a boxed optical instrument closely, which led him to believe it was a primitive subminiature camera.
Photographic experts later confirmed Paul's find was one of Auguste Bertsch's extremely rare 19th-century Chambre Automatique cameras — essentially a camera combined with a microscope.
Paul's record profit smashed the previous best for the show.
In 2016 a Tibetan bronze deity bought for £50 by Anita Manning sold for £3,800.
Antiques Road Trip is on BBC1 weekdays at 3.45pm
Source: Read Full Article