In Taraji P. Henson's new movie "What Men Want," she plays a frustrated sports agent who can, through a twist of fate and some psychedelic tea, read the minds of the guys around her.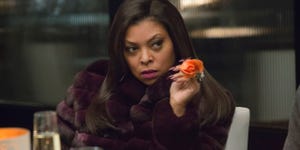 In the just-released trailer, after her boss passes her up for a promotion and criticizes her for not being able to understand the men around her, Ali takes it upon herself to go to a psychic to explain what's wrong with her. She drinks some tea, has a crazy night out, hits her head, and wakes up the next morning with the ability to read minds (but only those of men).
She uses it to her advantage in the boys' club that is her office, worming her way into meetings she should have been invited to in the first place and winning poker games with her colleagues. She even drills a guy's crotch with a pool stick because he internally said he wanted to tap someone else's ass. A true queen.
The movie is based on the 2000 Nancy Meyers film starring Mel Gibson. The original trailer is a nostalgia-inducing trip, for sure.
"What Men Want" hits theaters January 11, 2019. It also stars Tracy Morgan, Wendi McLendon-Covey, Tamala Jones, Max Greenfield, Phoebe Robinson and Shaquille O'Neal.
Follow Emma on Instagram.
Source: Read Full Article