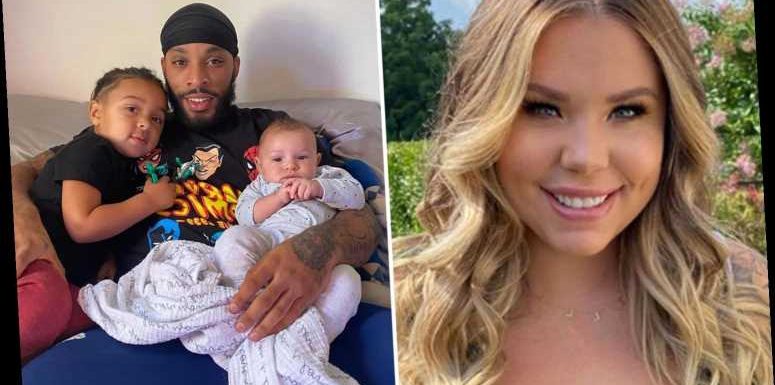 TEEN Mom star Kailyn Lowry's third baby daddy Chris Lopez revealed he wants MORE kids.
The dad-of-two also shared on his podcast he's hoping one day to have a daughter.
🍼  Follow all our latest news & stories on Teen Mom.
Chris said on his podcast, P. T. S. D – Pressure Talks with Single Dads: "I lowkey want more kids. So I got to find someone that wants more kids… Even when I was young I knew I wanted two [kids]."
He went on: "I want a girl… One day I'm hoping for a girl. I want my girls to have a sister… three might be my max… maybe four would be my max…
"Two boys and a girl- I'm straight. I'm solid… if Creed was a girl, I'd be done."
Chris and his Kailyn share sons three-year-old son Lux and five-month-old son Creed.
Earlier this week, charges against Kailyn were dropped after she was arrested for "punching" Chris "several times with a closed fist" over their son's haircut last fall.
The Sun exclusively revealed the Department of Justice filed a Notice of Nolle Prosequi on January 25.
So Kailyn will not be prosecuted for the "offensive touching" charge.
Kailyn's relationship with Chris has been strained for some time.
The MTV star recently said she wants to legally cut Chris out of her son's lives during a recent episode of her Baby Mamas No Drama podcast.
She said: "I have a huge problem with that [inconsistent fathers]. The court system would rather see a father who will come and go as they please, in and out, inconsistencies for days, weeks, sometimes months…"
Teen Mom OG – Season 9
Season 9 was filmed as the outbreak of coronavirus hit America.
Who's in the cast this season?
Amber Portwood
Catelynn Lowell
Cheyenne Floyd
Maci Bookout McKinney
Mackenzie McKee
Who are their boyfriends, husbands and baby daddies?
Amber Portwood's boyfriend Dimitri Garcia
Catelynn Lowell's husband Tyler Baltierra
Cheyenne Floyd's ex-boyfriend Cory Wharton
Maci Bookout's husband Taylor McKinney
Mackenzie McKee's husband Josh McKee
Teen Mom OG 's season nine aired on January 26th 2021 on MTV.
Kailyn explained in season nine of Teen Mom 2 that Chris had failed to be a more involved father.
In addition to Lux and Creed, She also has sons Isaac, 10, Lincoln, seven.
"Chris is not stepping up like I thought he would," she said.
"I f**ked up, like that's the bottom line, I f**ked up by moving. I made that mistake and now I need to correct it."
Source: Read Full Article