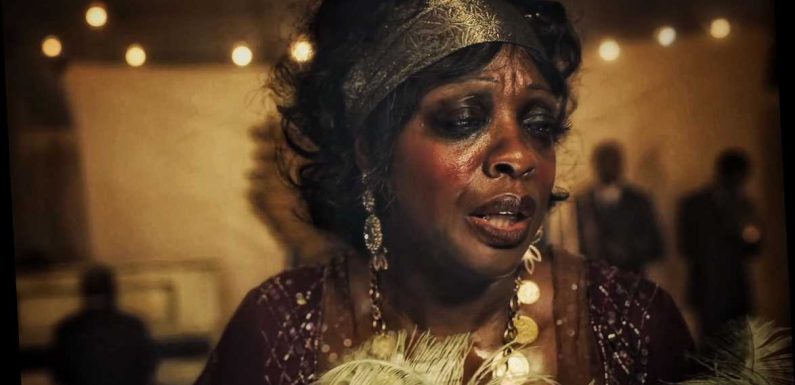 While Netflix's "Ma Rainey's Black Bottom" is competitive in a number of above-the-line categories, today's shortlist is just one step closer toward securing what is likely its safest Oscar: Best Makeup and Hairstyling. The history of the MUAH category points toward the Academy heavily favoring transformation, and the disappearance of Viola Davis into pioneering blues singer Rainey is without a doubt the one likeliest to grab voters' attention.
The Oscar-winning actress became the sexy, subversive Rainey with the help of gold teeth, charcoal-like makeup, and a wig made of horsehair. And Davis was boldly uncompromising in demanding such verisimilitude. She tapped her personal makeup stylist, Sergio Lopez Rivera, who collaborated with hair department head Mia Neal. The duo did as much research as possible, but there was little photographic reference, so they had to be inventive on a limited budget and little time to prep.
Not surprisingly, the other big contender is Netflix's "Hillbilly Elegy," in which Glenn Close is transformed into the fiery, scene-stealing Appalachian grandmother, Mawmaw. Despite negative reviews for Ron Howard's adaptation of J.D. Vance's divisive bestseller, there is no denying the effective craft on display. Close tapped her long-time prosthetics artist, Matthew Mungle ("Albert Nobbs"), who collaborated with makeup head Eryn Krueger Mekash ("The Prom," which was overlooked). They provided Close with a bulky nose, long ears, and tattered complexion to pull off the elderly matriarch.
Roberto Benigni and Federico Ielapi in "Pinocchio"
Roadside Attractions
Fincher's black-and-white "Mank" (also from Netflix), however, underplayed the makeup for titular Hollywood screenwriter, Herman J. Mankiewicz (played by Oscar winner Gary Oldman), while focusing on actress/San Simeon hostess, Marion Davies (Amanda Seyfried). Makeup department head Gigi Williams paid close attention to the monochromatic tone in applying makeup that split the difference between Davies on and off screen.
While "Birds of Prey and the Fantabulous Emancipation of One Harley Quinn" and "Emma" were anticipated to be shortlisted, there were a couple of nice surprises: "Pinocchio," director Matteo Garrone's Gothic re-imagining of the Italian fairy tale, starring Roberto Benigni and Federico Ielapi, contains innovative prosthetic makeup design for the titular wooden puppet from two-time Oscar winner Mark Coulier ("The Grand Budapest Hotel" and "The Iron Lady") in collaboration with hair designer Francesco Pegoretti; and Netflix's "Jingle Jangle: A Christmas Journey," a Black-led fantasy set in Victorian England, in which hair and makeup designer Sharon Martin got the unique opportunity to present a rich tapestry of Black styles, particularly among the women who appear on-screen.
Frontrunners
"Birds of Prey and the Fantabulous Emancipation of One Harley Quinn"
"Hillbilly Elegy"
"Ma Rainey's Black Bottom"
"Mank"
"Pinocchio"
Contenders
"Emma"
"Jingle Jangle: A Christmas Journey"
"One Night in Miami"
Long Shots
"The Glorias"
"The Little Things"
Key Oscar Indicators
The Academy's makeup and hair branch currently has 254 members, of which 225 are active and 29 are retired. The Makeup Artists and Hairstylists Guild, meanwhile, contains more than 2,100 artists worldwide. The last three Oscar winners ("Darkest Hour," "Vice," and "Bombshell") have gone to transformations of real life people, so that bodes well for "Ma Rainey's Black Bottom."
Monday, February 1, 2021
Preliminary Oscar voting begins
Monday, February 15, 2021
MUAH nominations voting ends 5:00 pm PT
Thursday, February 18, 2021
MUAH nominations announced
Sunday, February 28, 2021
Submission deadline for the Oscars
Friday, March 5, 2021
Oscar nominations voting begins; MUAH final online voting begins
Wednesday, March 10, 2021
Oscar nominations voting ends 5:00 pm PT
Monday, March 15, 2021
Oscar nominations announced
Thursday, March 18, 2021
MUAH final online voting ends 5:00 pm PT
Saturday, April 3, 2021
Winners announced at the 8th annual MUAHS Awards (date subject to change)
Thursday, April 15, 2021
Oscar Nominees Luncheon
Final Oscar voting begins
Tuesday, April 20, 2021
Final Oscar voting ends
Sunday, April 25, 2021
Winners announced at the 93rd Academy Awards (Oscars)
Source: Read Full Article