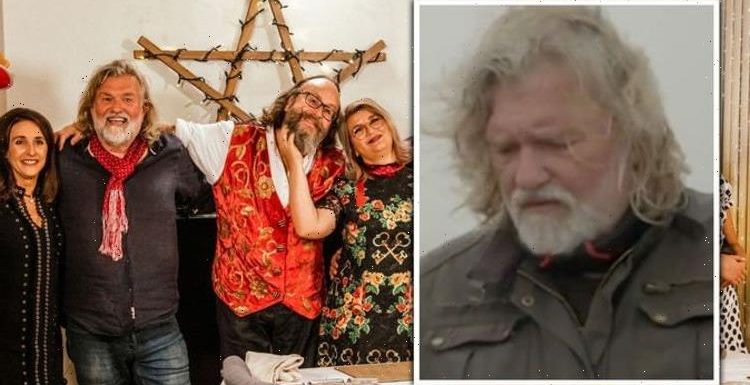 The Hairy Bikers reminisce about their families being together
We use your sign-up to provide content in ways you've consented to and to improve our understanding of you. This may include adverts from us and 3rd parties based on our understanding. You can unsubscribe at any time. More info
The Hairy Bikers Go North for Christmas aired on BBC Two on Wednesday as Si King and Dave Myers explored the best of northern British food. However, as the pair decided to create a festive feast inspired by the regions they were visiting, Dave stunned his cooking partner Si with a family confession.
In the instalment, the pair reminisced about their families being together in the past.
Dave remarked: "Let's face it my wedding was the last time both families were together."
"What anniversary is it?" Si asked and Dave confirmed it was his 10th.
"That's insane," Si replied before his friend continued: "These 10 years have been so busy so much has changed."
Read more: Hairy Bikers: Inside the homes of Si King and Dave Myers
"Look at the past two years alone," Si commented and Dave added: "You're a grandad."
"I'm a grandad and your kids are all grown up and left university," Si said.
"With partners," Dave pointed out. "Yours have got partners and happy – let's get everybody together."
Si agreed: "You know what that's a good idea let's go for it."
"Let's ride down the backbone of England from the Pennines and find the best the Pennines has to offer," Dave suggest.
"Good idea," Si noted before his cooking partner added: "Slap that on a plate and have a Christmas feast."
"I'm excited about this my creative juices are going," Si quipped.
"It's all out there on those hills," his friend and co-star added.
DON'T MISS
'Is this for real?' GMB viewers horrified by flatulence debate [INSIGHT]
Debbie McGee faces Christmas alone stranded from home in Covid scare [INTERVIEW]
Kate Garraway details sweet note from Kate Middleton 'Extraordinary' [VIDEO]
In the episode, Si and Dave are inspired by some of the best food artisans and producers in the north.
The cooking-duo then create their own Christmas dinner for their respective families.
"The families won't be expecting this," Dave remarked.
Si and Dave rustle up a turkey doner kebab with chilli sauce to start.
Get the latest three-day weather forecast where you live. Find out by adding your postcode or visit InYourArea
Their families are then treated to a "corker of a porker" main course.
A trifle which combined gourmet marshmallows and Christmas pudding completed the meal.
Si and Dave even created their own tipple "God's own Yorkshire rum".
The Hairy Bikers Go North for Christmas is available to watch on BBC iPlayer.
Source: Read Full Article