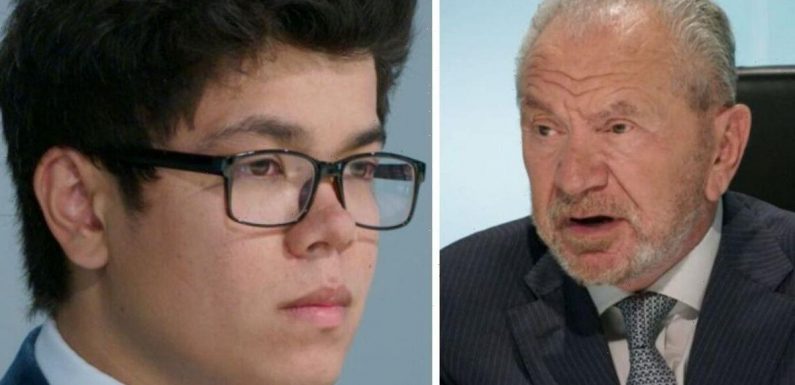 The Apprentice: BBC releases first trailer for 2023 series
We use your sign-up to provide content in ways you've consented to and to improve our understanding of you. This may include adverts from us and 3rd parties based on our understanding. You can unsubscribe at any time. More info
Since his elimination from the current series of The Apprentice, some fans of the BBC staple have said Gregory was unfairly fired after being "scapegoated" by his fellow teammates on the losing side. Speaking to Express.co.uk and other media, the 25-year-old addressed the "tough" outcome of Alan Sugar's decision, admitting he "probably shouldn't" have been fired.
Last week's programme had viewers cringing as the contestants had to create a children's cartoon.
While both teams faced a rocky start, it was the team led by Reece Donnelly which found itself losing by some margin.
Reece, who works with children in theatre, naturally volunteered to be the project manager of the task, while Gregory admitted the challenge wasn't his forte.
After losing the task, Reece decided to bring Gregory into the boardroom to face Alan's questioning, and he was ultimately fired.
During the intense meeting, Reece and other teammates accused Gregory of taking a backseat and not doing anything in the task.
"No word of a lie here, I could have done the exact same task, the exact same deadlines without you," Reece complained. "He would have been better off staying at home."
When told he should have adapted to the task, Gregory argued: "I was not given the opportunity because Reece sidelined me."
"I think I've heard enough," business magnate Alan eventually commented. "I don't want to hear any more from anybody."
He went on to reveal his choice, adding: "In business, you need to adapt, so it is with regret Gregory, you're fired."
Chatting to press about his time on the show, Gregory was asked for his thoughts on Alan's decision to get rid of him.
"I mean, it's tough, isn't it?" he replied. "It's a really, it's a very tough experience.
"Because obviously, you would like to sort of secure luxurious investments, and when you leave the actual process, you leave a lot of people who you've built close connections with.
"So it's a very challenging sort of experience. But on the whole, generally speaking, I think I enjoyed the process and I think it's very rewarding, to be honest."
When asked if he believed Alan made the right decision, he explained: "I mean, that's always a challenging question.
"And obviously, I would prefer not to have been fired. It was difficult.
"I mean, I am of the belief that if you don't have any necessary experience in the field, sometimes the less you say, is probably the better.
"Because otherwise there's no point in saying something which you don't necessarily stand by or have any evidence-backed conviction within yourself to support it.
"So I did believe at the time that Michelle and Reece, who had the most experience in this particular field were probably best-placed to make a judgment.
"Do I believe that I should have been fired? Well, probably not.
"But on the other hand, the other candidates were all superb.
"If my departure's given the other candidates the best opportunity of securing Lord Sugar's investment, well they're equally as deserving."
The Apprentice continues on Thursday at 9pm on BBC One.
Source: Read Full Article