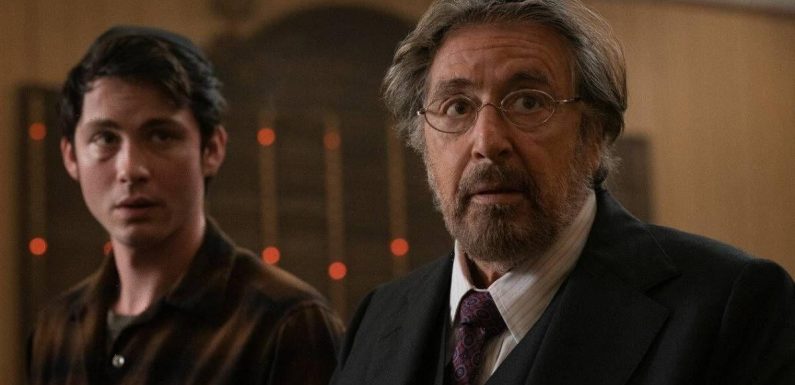 https://www.youtube.com/embed/vBE7dHShnjE
Hunters first catapulted onto the small screen back in February 2020, delving into the story of Nazi hunters who discover there are hundreds of high-ranking Nazi officials living in 1970s New York. They are determined to create a Fourth Reich in the USA and it has been the hunters' job to try and stop them for good. With the second series now out, Amazon Prime Video subscribers are keen to know what the future holds for the drama.
WARNING: This article contains major spoilers from Hunters.
Will there be another series of Hunters?
Hunters returned for season two on Friday, January 13, on Amazon Prime Video.
This time around, the series had eight episodes, in comparison to the first outing which consisted of 10 instalments.
Fans had been waiting three years for the violent drama's return following its shocking cliffhanger which saw The Colonel's true identity revealed.
It turns out The Colonel is none other than Eva Braun (played by Lena Ollin), the wife of Adolf Hitler (Udo Kier) who is also still alive.
We use your sign-up to provide content in ways you've consented to and to improve our understanding of you. This may include adverts from us and 3rd parties based on our understanding. You can unsubscribe at any time. More info
In the drama, the couple faked their deaths in order to escape punishment and to start anew elsewhere.
So they fled to Argentina and hoped to create the Fourth Reich elsewhere in the world.
Season two has focused more on the hunters doing all they can to get to the infamous couple to try and bring down the system from the top.
Unfortunately, partly due to this storyline, there won't be anymore new episodes to look forward to.
Hunters isn't going to return for a third season with this latest second series bringing the story to a close.
In an interview with creator David Weil, he explained to Rotten Tomatoes that series two's plot is the climax of the entire show.
He said: "In invoking Hitler at the end of season one, it felt very important, I think, to conclude that story in season two and not really draw out Hitler over many seasons.
"So, in the writing of season two, what became really clear — and I think you'll feel this — it felt like a really natural conclusion to the story."
DON'T MISS…
Our Yorkshire Farm emergency as air ambulance rushes to Ravenseat [EXPLAINER]
Jeremy Clarkson defended over ITV axing as petition reaches thousands [REACTION]
'Tom Cruise is too small' Jack Reacher author finally weighed in [CAST]
Actor Logan Lerman also described how series two builds upon the first part of the story.
Headed to Esquire: "It's just bigger. It's got more bang. It's a fun ride.
"And it's definitely one that you can lose yourself in and enjoy, hopefully, for eight hours or whatever it is.
"I wouldn't over-intellectualise the show, in my opinion."
In the series finale, Hitler is found guilty of his war crimes and is sentenced to prison.
He does manage to escape, thanks to a plan he cooked up with Eva but when she tells Travis (Greg Austin) to kill him for embarrassing her, he shoots Eva instead.
Hitler is caught in the end though and is sent to prison where he is referred to as merely a number.
Hunters is available to watch on Amazon Prime Video.
Source: Read Full Article