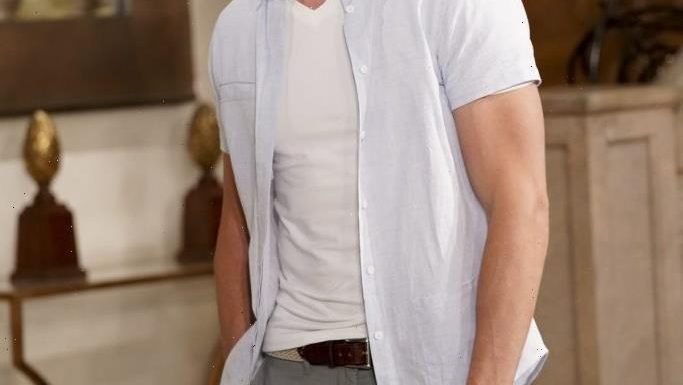 The honeymoon may be over for The Bold and the Beautiful newlyweds Steffy Forrester (Jacqueline MacInnes Wood) and Dr. John "Finn" Finnegan (Tanner Novlan). Less than an hour after exchanging vows, the couple's reception was disrupted by the arrival of Sheila Carter (Kimberlin Brown). The revelation of Sheila being Finn's birth mother is already creating tension between Finn and Steffy. With the couple experiencing problems, this may lead to Finn finding comfort with another woman. That woman is none other than Paris Buckingham (Diamond White).
Paris Buckingham is living with Finn and Steffy Forrester
Paris never had any previous interactions with Steffy and Finn. However, she's now living with the couple and acting as nanny to baby Hayes. Steffy and Finn took Paris in after learning she was searching for a place to live. The couple's decision to invite Paris to move was met with confusion by fans.
Speculation began that the show was setting up a possible affair between Finn and Paris. The fans' suspicions are slowly starting to play out. With Paris becoming involved in the couple's disagreement over Sheila, all signs point to Finn committing adultery.
'The Bold and the Beautiful' setting up an affair between Finn and Paris Buckingham
Paris is finding herself in quite the predicament with Steffy and Finn. With Finn sneaking around to visit Sheila behind his wife's back, Paris is forced to keep his secret. This has created a dilemma for the young intern. Steffy's been good to her by giving her a place to stay, and she doesn't want to keep secrets from her boss.
On the other hand, she understands Finn wanting to know his birth mother, even though Steffy forbade him from contacting Sheila. Paris becoming Finn's confidante throughout this ordeal has fans predicting an affair is coming. In a Twitter thread, The Bold and the Beautiful fans are already discussing the possibility of a Finn and Paris hookup. "They are both getting kicked out and end up together," one fan commented. Meanwhile, another commenter chimed in with, "Get a life, Paris. And butt out of Finn's and Steffy's."
What role will Sheila Carter play in Finn and Paris Buckingham's affair?
Sheila is already causing trouble in her son's marriage. With Finn sneaking around to visit Sheila and Paris keeping the secret, this is going to backfire. When Steffy learns of Finn's betrayal, she's going to be furious. This will undoubtedly lead to a separation and Paris being kicked out. With Finn and Paris single, it opens up the door for a relationship between the two.
But how will Sheila feel about Finn's romance with Paris. Sheila was happy about Finn's marriage to Steffy because it once again connected her to the Forresters. Yet, with Paris cozying up to Finn, Sheila's plans are thwarted. However, since Steffy tried to come between Sheila and Finn, Ms. Carter may be happy to see the couple split. With Steffy out of the picture, it'll mean Sheila has a chance to bond with her son and grandson. So Finn may not be the only person Paris allies with.
Source: Read Full Article