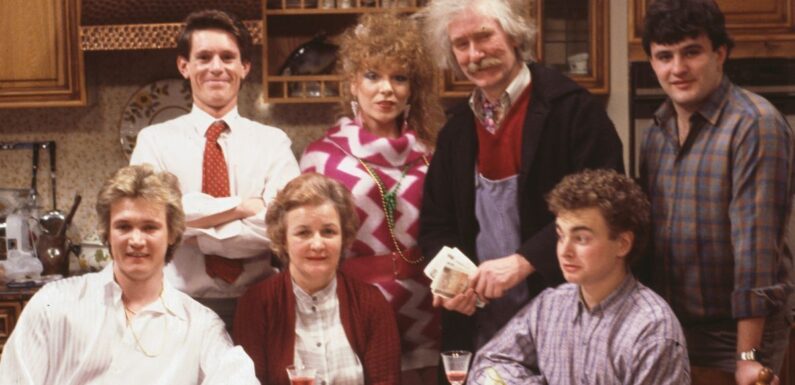 Jean Boht
Jean Boht was best known for the role of Nellie Boswell in the BBC sitcom as her character demanded respected from her sons.
Nellie was a fearsome character who wouldn't put up with nonsense but ultimately she loved and cared for her children.
Jean went on to appear in Casualty, Holby City, Doctors and The Bill before stepping back from the limelight. She married conductor Carl Davis in 1970 and the pair had two daughters together. Jean died at the age of 91 just months after Carl's death.
Ronald Forfar
Ronald Forfar starred as Nellie's troublesome and adulterous husband Freddie Boswell.
Freddie was instantly recognisable with his trademark white locks and often cheated on his wife and never supported his family.
Actor Ronald continued to act after Bread came to an end and also became a novelist.
However, the actor sadly died in 2020 at the age of 81.
Eileen Pollock
We use your sign-up to provide content in ways you've consented to and to improve our understanding of you. This may include adverts from us and 3rd parties based on our understanding. You can unsubscribe at any time. More info
Eileen Pollock was best know for the role of Lilo Lil, the other woman and mistress of Freddie Boswell.
Eileen said of the role: "I like it when someone says in a supermarket 'you know who you remind me of, don't take offence, that tart from Bread.'"
Following the end of Bread, the actress performed for a number of Northern Irish companies.
Her family confirmed she died aged 73 before Christmas 2020 as they remembered: "Your beauty, laughter and loving eyes gave joy to all."
Peter Howitt
Peter Howitt is one of the most successful stars from Bread as he moved to Hollywood following his role as Joey Bowell.
He played Nellie and Freddie's eldest son and when the sitcom came to an end, he went on to become a director,
Peter worked with a number of A-list stars including Rowan Atkinson on Johnny English, and Gwyneth Paltrow in Sliding Doors.
Peter is reported to now be living in Canada after leaving the industry in 2008 when his daughter Amy was birth.
Victor McGuire
Victor McGuire meanwhile travelled to Weatherfield after landing a role on the cobbles as Big Garth in Coronation Street.
Victor was known for his role as Jack Boswell in Bread before going on to star in films like Guy Ritchie's Lock, Stock and Two Smoking Barrels.
He also appeared in BBC sitcom Goodnight Sweetheart, with Nicholas Lyndhurst, from 1993 to 1999.
Gilly Coman
Gilly Coman starred as Nellie's daughter Aveline, who was a beloved member of the family.
The actress appeared in the first four series of Bread before stints on Coronation Street, Emmerdale and Inspector Morse.
She tragically died at the age of 54 in 2010 from a suspected heart attack. She is survived by her three children.
Source: Read Full Article