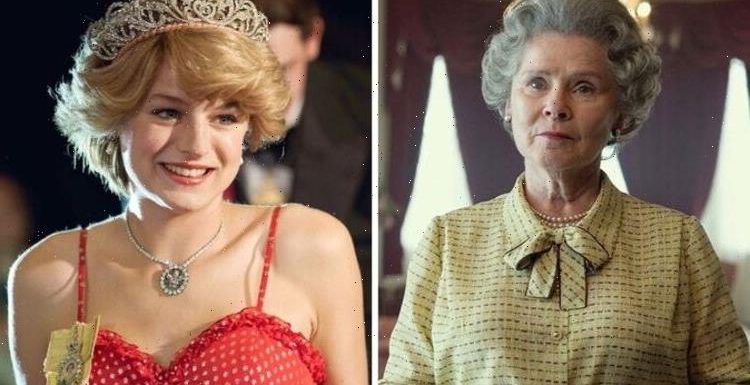 Westminster: Netflix's The Crown films at the London Coliseum
We use your sign-up to provide content in ways you've consented to and to improve our understanding of you. This may include adverts from us and 3rd parties based on our understanding. You can unsubscribe at any time. More info
A massive £150,000 worth of items have been stolen from the storage of Netflix's popular royal drama. It's been reported three lorries containing the props were broken into on Wednesday night ahead of The Crown's highly anticipated return later this year.
Lorries containing valuable replicas used on the set of The Crown were infiltrated in an overnight raid, Netflix has confirmed.
The Mail Online revealed South Yorkshire Police are investigating the raid of three vehicles near Doncaster.
They confirmed 200 items were stolen, including jewellery, a grandfather clock, silverware, and a candelabra.
One of the most expensive items may be a replica of a Russian Fabergé Egg purchased by King George V and Queen Mary.
Sources told the Sun: "The gang managed to gain access to the lorries, break them open and strip them of the lot.
"Producers have an incredible eye for detail and every item was meticulously chosen. To lose the lot is just heart-breaking."
Filming for season five of The Crown began in July 2021 and is still ongoing, with production on season six also expected to take place later this year.
Thankfully, Netflix has assured fans of the series the break-in won't affect the show's production schedule.
A spokesperson for the streamer said "replacements will be found," and filming won't need to take any breaks to handle the incident.
The Crown has proven to be one of Netflix's most luxuriantly produced small screen dramas, so the loss of so many valuable props is still devastating.
Season six will mark the end of the revealing Royal Family drama, which will introduce a brand new cast upon its return later in 2022.
Screen legend Imelda Staunton will take the place of Oscar-winner Olivia Colman as Queen Elizabeth II.
DON'T MISS:
Tobias Ellwood warns 'history will ask why West didn't do more' [OPINION]
Vikings' Floki star congratulates co-star's awards nod [COMMENT]
Riverdale's Veronica star speaks out on ending [UPDATE]
Plus, Lesley Manville will portray the Queen's sister, Princess Margaret, replacing Helena Bonham Carter.
Damian Lewis, Jonathan Pryce and Elizabeth Debicki have also joined the cast as Prince Charles, Prince Philip and Princess Diana, respectively.
The fourth season drew critical acclaim, with Emmy awards going to Olivia Colman, Gillian Anderson and Tobias Menzies.
The next season is set to dramatise Diana's ground-breaking Panorama interview with Martin Bashir in 1995, as well as several other major royal events.
Showrunner Peter Morgan has since confirmed the series will come to an end with its sixth season, also starring Imelda and Jonathan.
While royal drama is still hitting the headlines, the series will stop short of covering the ongoing scandal involving Prince Andrew and the marriage between Prince Harry and Meghan Markle.
A release date for season five has yet to be officially announced, but the next episodes are expected to drop near the end of the year.
The Crown seasons 1-4 are available to stream on Netflix.
Source: Read Full Article