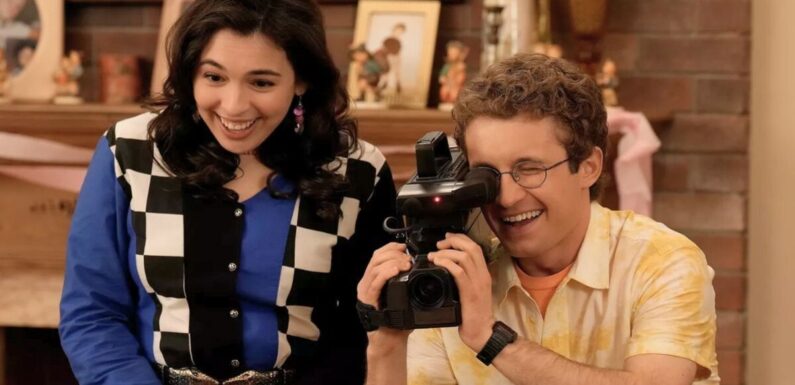 The Goldbergs: Season 10 trailer from ABC
WARNING: This article contains spoilers from The Goldbergs series finale
When The Goldbergs first landed on ABC in 2013, the 80s-inspired sitcom captivated viewers as they watched the complex dynamic of the beloved family unfold.
Throughout its 10-year run, the show became a huge favourite for its nostalgic 80s music, hilarious references and iconic guest star cameos.
As a result, millions of viewers were disappointed to learn the comedy would be coming to an end with season 10, despite its steady ratings.
The series finale premiered on Wednesday and while many bid an emotional farewell to the titular family, others shared their discontent.
Taking to Twitter, viewers raged at ABC for a 'rushed' finale and claimed the ending didn't properly wrap up key storylines.
An unimpressed @JoshuaM88915563 tweeted: "The Goldbergs finale feel like: What that ending was? It's a bad ending and rushed.
"Come on! Deserve better. Deserve a proper ending and not to be rushed," they added.
A second viewer @withonea shared: "OMG That Ending Montage! Sad That it's ALL Over, The Episode was Too Quick! That Finale Should Have Been an Hour Long Episode!" (sic)
@Withonea stated: "Feel like it was a very quick and abrupt ending. The Goldbergs cast and crew deserves so much more!"
Don't miss…
Janice Dickinson and Andy Whyment in fiery showdown[WATCH]
Emmerdale's Charity gets ultimate 'revenge' on Chloe and Mack[LATEST]
Inside The Repair Shop star Steve Fletcher's romance with partner Mel[INSIGHT]
@Mikem717 complained: "#TheGoldbergs finale was a little disappointing it felt very rushed."
Despite the backlash, other fans were pleased with how the show ended and shared their appreciation on social media.
This included @Gaynes who wrote: "Great 10 years. Your show was like reliving my 80s childhood. Thanks! Perfect finale! I'll see you in reruns."
@RanEmmanuel agreed: "That was a perfect series finale. The right blend of laughs and tears. We will never forget the 80s and #TheGoldbergs."
The bittersweet ending came with some major developments for some, as the widowed Beverly Goldberg (played by Wendi McLendon Covey) almost embarked on a new romance.
She reunited with her teenage crush George (Rob Corddry) during a high-school reunion but her son Adam (Sean Giambrone) stopped every attempt allowing them to get closer to him as he accompanied Beverly to the event as her date.
Elsewhere in the episode, Barry Golberg (Troy Gentile) and Joanne Schwartz (Beth Triffon) skipped the wedding fuss and decided to elope.
As they prepared to tell the family during their daughter Muriel's first birthday party, the youngster stole the show as she said her first words.
The Goldbergs' finale closed with a tear-jerking 80s-inspired montage of the show's best moments.
The Goldbergs seasons 1- 10 are available to stream on ABC in the USA and on All 4 in the UK.
Source: Read Full Article