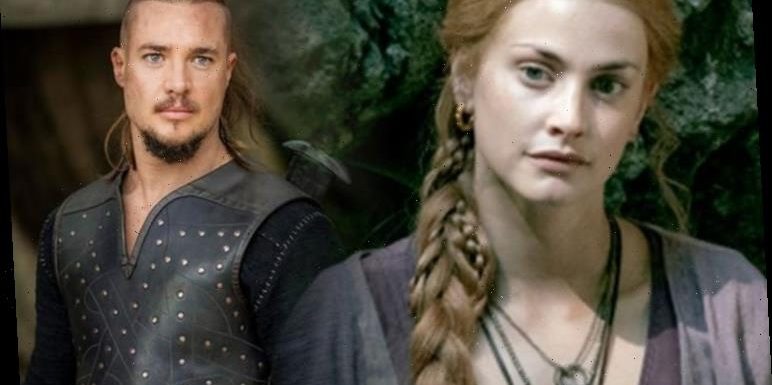 The Last Kingdom: Netflix tease fourth season of show
When you subscribe we will use the information you provide to send you these newsletters.Sometimes they'll include recommendations for other related newsletters or services we offer.Our Privacy Notice explains more about how we use your data, and your rights.You can unsubscribe at any time.
The Last Kingdom season five will be airing on Netflix in the near future and Uhtred (played by Alexander Dreymon) is expected to be in his mid-50s. Season four introduced a new character, Eadith (Stefanie Martini), who decided to abandon her brother Eardwulf (Jamie Blackley) and support Uhtred. Fans are keen to know if Eadith will save Uhtred's life after they read The Saxon Stories – a series of novels on which the show is based.
Will Eadith save Uhtred's life?
The Last Kingdom is a popular Anglo-Saxon series following the plights of Uhtred of Bebbanburg.
Uhtred had some difficult choices to make in season four, which put an end to his relationship with Mercian ruler Aethelflaed (Millie Brady).
Eadith had been sleeping with Aethelflaed's husband, Aethelred (Toby Regbo), so he would learn to trust her and her brother.
However, she abandoned her plan when she realised how her brother's hunger for power had turned him evil.
She went on to help Uhtred get his and Aethelflaed's children to safety ahead of the Winchester siege.
At the end of the season, she had received help from Uhtred's friend Finan (Mark Rowley), who had developed an interest in her.
Fans are hoping the pair start a relationship, but in the Bernard Cornwell novels Uhtred actually ends up with Eadith.
In The Saxon Stories, Eadith becomes Uhtred's love interest and she reveals the location of a missing sword.
The sword is known as Ice-Spite and it was taken to Wales by a monk following the Battle of Tettenhall.
In the books, the sword is eventually found and Eadith uses it to help heal Uhtred's battle injuries.
Fans are keen to know if Eadith will carry out this heroic act in the fifth season.
As the Battle of Tettenhall took place in season four, the aftermath of the battle has already happened and Uhtred was left unharmed.
There had also not been any mention of a sword being taken following the iconic battle, so this storyline may not come to light.
That being said, there may be another opportunity for Eadith to save Uhtred from a new type of danger.
If she really is destined to be with him, she may aid him in some other way in the upcoming season.
DON'T MISS…
The Last Kingdom: Where is Toby Regbo now? [INSIGHT]
The Last Kingdom historical accuracy: How did Aethelflaed rule Mercia? [EXPLAINER]
The Last Kingdom season 5: Where will Uhtred be in season 5? [INSIGHT]
Some fans have suggested she will help Uhtred raise Aethelstan (Caspar Griffiths) – the son of King Edward (Timothy Innes).
Edward's mother Aelswith (Eliza Butterworth) had given Aethelstan to Uhtred so he could raise him as a strong and powerful heir.
Viewers believe in season five Uhtred will settle down with Eadith and they will raise the future king together.
Eadith features in novels eight to 12 of The Saxon Stories, with her final appearance being in Sword of Kings.
Season five is based on books nine and 10 – Warriors of the Storm and The Flame Bearer.
Fans have taken to Twitter to share their thoughts on Eadith's character, with one calling her "such a great addition".
Another said: "This was the best season of The Last Kingdom yet and I'm def gonna need more Lady Eadith in the future bc she rules." (Sic).
Uhtred has experienced some narrow escapes in the past, so there is a chance he will run into more trouble soon.
The 'Dane-slayer' does not have age on his side and he is likely to grow weaker as the years pass.
This may provide Eadith with an opportunity to show her value to the rest of the team.
The Last Kingdom is streaming on Netflix now
Source: Read Full Article