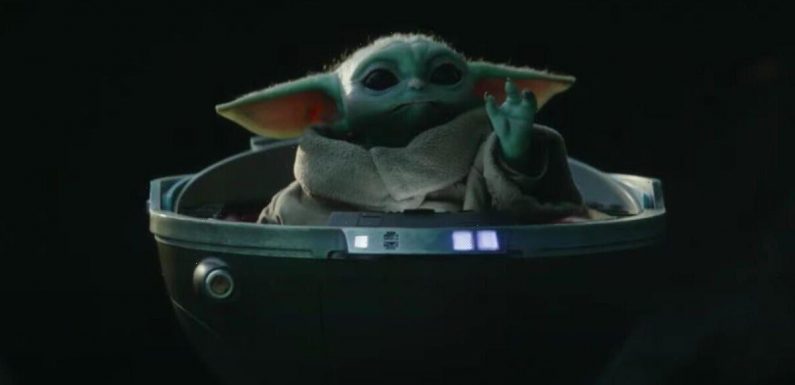 The Mandalorian: Jon Favreau reveals he's 'written season four'
We use your sign-up to provide content in ways you've consented to and to improve our understanding of you. This may include adverts from us and 3rd parties based on our understanding. You can unsubscribe at any time. More info
The highly-anticipated third season of The Mandalorian has proved rather pedestrian so far, with many Star Wars fans rather let down by last week's anti-climactic premiere. Thankfully, Din Djarin (played by Pedro Pascal) and Grogu's adventures picked up the pace this time around, although some Disney+ subscribers complained they had difficulty seeing the action in the gloomy caverns of Mandalore.
Episode two's dark setting caused trouble for some viewers as they admitted they couldn't see what was going on.
This week's outing, The Mines of Mandalore, saw Mando and Bo-Katan Kryze (Katee Sackhoff) go in search of the mythical Living Waters beneath their home planet.
Once there, the Darksaber makes quick work of a group of vicious Alamites and a strange horde of mecha creatures.
After some challenges along the way, Mando eventually makes it to the Living Waters to cleanse his sins, but the companions are stunned by the arrival of the legendary Mythosaur.
What could have been an impactful chapter of the Star Wars spin-off was sadly ruined for some fans by the episode's poor clarity during the episode's darker scenes.
On Twitter, user Dominic Hardy wrote: "This episode is so dark. I can barely see anything."
@Pickitflickit wrote: "Just make it brighter guys. Could barely see what was going on in this week's #TheMandalorian Sort it out!"
Ben Drazil asked: "What's the point of keeping up with #TheMandalorian if every scene is so dark you can't tell what the f**k is going on?"
"Probably my only gripe with #TheMandalorian S3 Ep2: it was too dark at times for me to experience the action bits which were also shot fast, edited fast," @beingshubho said.
"Dark environment, dark lighting, quick action cuts – I was barely able to understand what went down."
Agustin Macias tweeted: "Watching the latest #TheMandalorian. Why is modern filmmaking obsessed with making everything dark?"
And @ThatGuyNamedTre said: "An okay episode of #TheMandalorian. The episode was too dark for my liking."
Don't miss…
You fans slam 'insane' Marienne twist in part 2 [BACKLASH]
Stormy Daniels teases For the Love of DILFs season 2 [EXCLUSIVE]
FBI International promo teases Kellett's deadly exit [VIDEO]
Episode three could prompt the same complaints, though hopefully Mando and Bo-Katan don't stay in the mines for much longer.
The complaints have ignited an argument amongst Star Wars fans, however, as other viewers insisted the picture quality was fine on their TV sets.
Streamers who haven't adjusted their screens or were trying to watch in broad daylight may have trouble with the episode, though most fans were more focused on Bo-Katan's Darksaber skills to complain about the lighting.
This week's outing also concluded on a high when diehard Star Wars enthusiasts were finally treated to a live-action iteration of the Mythosaur.
The legendary creatures were first mentioned in the franchise's popular animated shows and were thought to have been tamed and ridden by ancient Mandalorians.
They have become ingrained into Mandalorian culture, with some Beskar armour bearing the symbol resembling their distinct horned skulls.
Although they were believed to have gone extinct, with some even questioning their existence in the first place, the discovery of a living Mythosaur in the Living Waters will undoubtedly put everything Mando thought he knew about his home planet to the test.
The Mandalorian season 3 continues Wednesdays on Disney+.
Source: Read Full Article