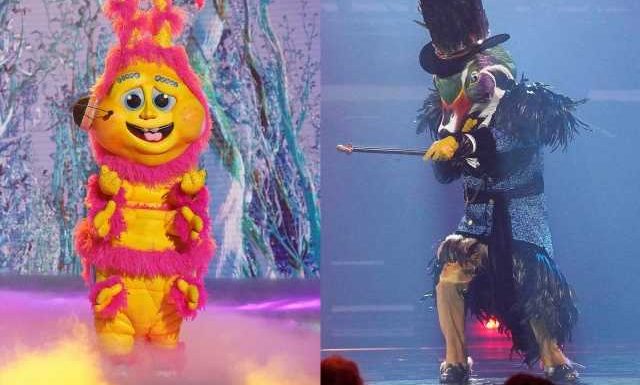 In the new episode, viewers are treated to Group B Semi-Finals as the final four group B singers compete with two of them being eliminated at the end of the episode.
AceShowbiz -"The Masked Singer" returned with a brand new episode on Wednesday, November 17. In the new episode, viewers were treated to Group B Semi-Finals as the final four group B singers competed. Two of them would be eliminated at the end of the episode.
Performing first that night was duo Banana Split, who performed Lady GaGa's "Poker Face". Their clues included a miniature mirror that said "hottest bod." Judge Robin Thicke guessed Leona Lewis and Ryan Tedder. Ed Sheeran and Jesse J were also among the guesses.
Caterpillar followed it up with a performance of "Friends in Low Place". For his clues, he revealed that he once won a bible quiz. Jenny McCarthy believed she knew the identity of Caterpillar so she hit the Take It Off button which would instally eliminate Caterpillar. She guessed Jake Gyllenhaal, but she was wrong. For the punishment, she had to clean fellow judge Ken Jeong's dressing room.
The next performer was the Mallard, who belted out "The Fly" by Sugar Rush. For his clues, he said that he's married and has several children. The panelists threw names like Garth Brooks and George Foreman for their guesses.
Rounding out the night was The Queen of Hearts, who opted to sing "She's Got You" for Group B Semi-Finals. It was such an emotional performance, prompting Ken to suggest that Kelly Clarkson might be under the mask. Nicole Scherzinger, meanwhile, named Sia Furler and that made Ken changed his mind to Sia as well. Guest panelist Cheryl Hines thought it could be Kristin Chenoweth.
Later, it was revealed that The Mallard was eliminated. The panelists' final guesses included Alan Jackson, Jason Aldean, Dog the Bounty Hunter a.k.a. Duane Chapman and Billy Ray Cyrus. None of themwere correct because the Mallard was actually Willie Robertson from "Duck Dynasty".
It was then time for Caterpillar to get unmasked. Nicole guessed Florida Georgia Line's Tyler Hubbard. Ken thought it was Dan Levy, Jenny named Owen Wilson, while Robin guessed AJ McLain. As for Cheryl, she thought it might be Jim Parsons. Again, they were all wrong. The Caterpillar was "Queer Eye" star Bobbie Berk.
Source: Read Full Article