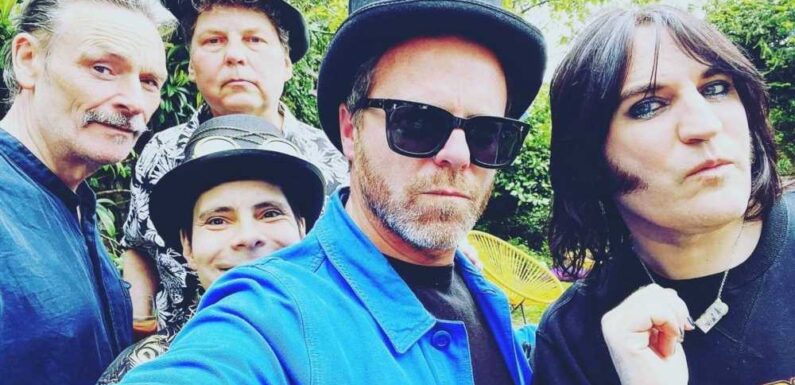 NOEL Fielding was called a "vampire" after he revealed his age while reuniting with his Mighty Boosh castmates.
The comedian shared a snap of his co-stars enjoying the sunshine this weekend – delighting fans of the cult BBC show.
He was joined by Julian Barratt (Howard Moon), his brother Michael Fielding (Naboo), Rich Fulcher (Bob Fossil) and Dave Brown (Bollo) as he celebrated his birthday.
"I am 50 can't explain how much I loved my birthday x half a century x," he wrote in the comment section.
Refusing to believe that the Great British Bake Off presenter is fifty years old, one follower wrote: "Aw happy birthday Noel! Vampires don't age."
Another wrote: "Happy birthday!!! You are both ageless AND timeless — and will forever my goth inspo. Thanks for all you stand for, and all you do! I hope you have an excellent birthday celebration."
read more on Noel Fielding
The rise and rise of Bake Off presenter Noel Fielding
Meet Lliana Bird, Noel Fielding's girlfriend and mum to their daughter
"Real age or press age?" a third questioned, while a fourth chimed:"50? Whose blood are you drinking?"
"You are 50?! No fkn way! Glad it was awesome," another added.
Noel's pal Keith Lemon shared his own thoughts on turning 50: "Happy birthday! I'm 50 as well. Feels very strange."
Some of Noel's fans mistook the snap as him announcing that the hit show will be returning, but sadly that doesn't seem to be the case.
Most read in TV
This Morning fans slam 'insincere' and 'bizarre' tribute to axed Phil Schofield
Eamonn Holmes hits out at Phil & Holly in furious new rant
This Morning star reveals she's pregnant with second child amid show turmoil
More shocking details of Phillip Schofield's This Morning axing revealed
"Happy birthday, isn't that the Boosh team?? So, is Boosh coming back??" one asked, while a second wrote: "Why did I think that this was a Mighty Boosh announcement? Happy Birthday." 
Noel's partner Lliana Bird, 41, also shared a sweet snap of the two of them with a heartfelt caption.
"Babius. We love you more than you'll ever know. Half a century of the wonder that is you.
"You've made our whole lives, the two most incredible girls in the world are because of you. I hate this b******t posting stuff but baby, you're so cool. You're so cool. You're so. Cool. Xx."
The pair began dating in 2010, welcoming their first daughter, Dali, in 2018, and their second, Iggy, in 2020.

Source: Read Full Article