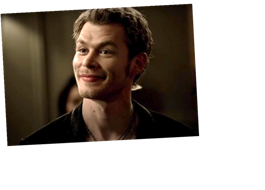 The Originals had a great run. The Vampire Diaries spinoff lasted five seasons and raked in higher ratings than its predecessor at times. Now, The Originals cast has moved on to new projects since the show ended three years ago. But Joseph Morgan still has some keepsakes from his time playing Klaus Mikaelson.
Why did 'The Originals' end?
All good things must come to an end, and that was the case for The Originals. Although the show didn't last as long as The Vampire Diaries' eight seasons, the cast was happy to be able to give fans a good conclusion to the story of their powerful family.
Creator Julie Plec announced The Originals' final season via Twitter on July 20, 2017. Her statement revealed the show was ending because it had reached its natural conclusion, and she wanted everyone involved to be able to say goodbye. Abrupt cancelations can prevent a cast and crew from truly completing their work, so they ended the show before that could happen. As Plec wrote:
"It's both a gift and a burden to be able to control the ending of a series. Many shows are not lucky enough to have a hand in deciding when the end has come. Being able to celebrate the completion of The Vampire Diaries was a joyful and deeply emotional ride, a luxury gifted by Mark Pedowitz at The CW and Peter Roth at WBTV, who, as TV fans themselves, know what it means when a fan is able to say goodbye. Ending a show is always bittersweet, but for me, it's a true blessing to be a part of making that choice."
In a time when shows are getting canceled left and right and fans are left wondering what could have been, a show getting to end things on its own terms really is best-case scenario.
Joseph Morgan stole Klaus Mikaelson's signature shirts from 'The Originals' set
Morgan opened up to Us Weekly about his last day of filming for The Originals, saying he took "as much as [he] could fit in [his] bag" from the set. One thing he made sure to make room for in the bag was Klaus' signature shirts.
"Yeah, the henleys. As many henleys as I could carry," he said. Henleys are the collarless pullover shirts with a round neck and buttons that the vampires in Plec's shows can't get enough of. Damon and Stefan Salvatore wore a bunch of them, as well as Klaus and Marcel. Basically, if you're a guy in a Plec show, you're wearing a henley. Those are just the rules.
Morgan told the outlet that after they wrapped filming, the cast and crew gave "little speeches and hugs about stuff. It was pretty emotional and then everybody packed up and left." As he continued:
"I remember sort of standing there feeling like everyone's gone. I'm just kind of standing in New Orleans unemployed and alone. I had friends and my wife was with me as well, thank goodness. And some of the cast were with me as well, but you feel like wow. That's it, it's done. It's a joy and a sadness at once, is the only way I can describe it. It's a plethora of feelings … And then you pack up your stuff and I sort of took a last look at my dressing room that I've been in for five years and you think, 'Is there anything else I can steal? No, I've got it all.' And then you go. I took the name tag off the door. That's probably worth something."
The actor went on to play CJack60 in Peacock's Brave New World alongside Solo: A Star Wars Story actor Alden Ehrenreich, but it was canceled after one season.
Will Klaus be in 'Legacies'?
Given that Legacies is all about Hope Mikaelson (Klaus and Hayley Marshall's daughter), fans were hoping they'd see Morgan appear in the spinoff. But he says that's not in the cards. Not only because he's completely uninterested in making a cameo, but also because he and Plec think it would feel "unnatural." He did die alongside his brother, Elijah, in the series finale, after all.
As he told TV Guide:
"No never, never. You're never going to see it. You can hold your breath as long as you want. You know why? I have The Originals box set on my shelf, and it's a beautiful thing because it's five DVD sets that are a complete story from beginning to end of this guy, Klaus Michaelson — well, starting back in The Vampire Diaries Season 2. So I just feel like to come back as a ghost or a flashback or something, for me, that journey, that story has ended. That's the complete story, and it just doesn't feel right to me to do that."
Fine.
Source: Read Full Article